6-week Quickstep Course
Class run by Rendezvous for Dancing
Wednesday 26 February 2020
In Past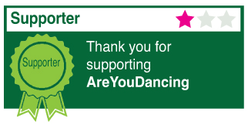 6-week Quickstep Course
Dance Styles: Quickstep
Price: £6
Time: 9:00pm - 10:00pm
Ticket Options: Pay on door
Come and learn some more moves in your Quickstep as well as trying to perfect essentials like frame and footwork.
This class isn't for beginners but for couples who can already dance the Quickstep and would like to progress further.
Email: rendezvousfordancing@gmail.com
Tel: 07504 714 768
Website: rfdancing.co.uk
We have several different levels of Ballroom & Latin class running each week, we'll find the right class for you!
Alternatively, we offer personal lessons if you prefer to learn on a 1-2-1 basis. These are available in the afternoons and evenings 5-6 days a week. Must be booked in advance.