Peaky Blinders Night
Dance run by Feathersteps School Of Dance
Friday 16 October 2020
In Past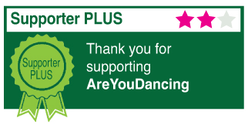 This event has been Cancelled
An evening of dance and live music, by order of the Peaky Blinders!
Dance Styles: 1940s Jive, Argentine Tango, Boogie Woogie, Charleston, Foxtrot, Jive (Ballroom), Lindy Hop, Modern Tango, Quickstep, Rock n Roll, Rumba, Samba, Viennese Waltz, West Coast Swing
Price: TBC
Time: Doors open 7.00pm, lights up at 11.30pm
Ticket Options: Ticket Recommended (Pay on door if places available)
Feathersteps School Of Dance and Bubwith Leisure & Sports Centre are now under the strict control of The Peaky Blinders.
Bubwith Leisure Centre will under go a make over roaring back to 1920s... So welcome to The Peaky Speakeasy!
Glamour and class of the 20s rub shoulders with the seedy under belly of Prohibition London, where gangs run the streets, and of course the Peaky Blinders are in control.
For your dancing and listening pleasure, we welcome KAL'S KATS, a wonderful Swing Band who will whisk you across the Ballroom to the tones of Charleston, Tango and the sounds of 20s London town, mixed with more recognisable dance tracks.
Kal's Kats have played many Speakeasys and Clubs across the UK, also having performed music scores for Hollywood films, and the original Peaky Blinders series music.
Sophie will be under strict guidance of Thomas Shelby, but will be allowed to play an eclectic mix of themed music to make the evening run smoothly.
Themed Dress is encouraged, but optional.
PEAKY BLINDERS NIGHT
7.30pm-11.30pm
FRIDAY 16TH OCTOBER 2020
BUBWITH LEISURE & SPORTS CENTRE
Save the date, by order of the Peaky Blinders.

Bubwith Leisure & Sports Centre venue
The Bubwith Centre boasts a huge sprung wooden floor, absolutely perfect for dancing! The plentiful bar keeps everyone merry, along with excellent facilities such as dressing rooms, toilets, play area and large car park.
Howden Train station is a 10 minute drive away.
Selby Train Station is a 20 minute drive away.
Taxi links are excellent.
Find The Bubwith Centre on Main Street in Bubwith village, close to Selby and Howden, with excellent links from Hull and York. The venue is sign posted "Leisure Centre" in the village. We always have our banner at the entrance of the car park, so keep a look out on your right if you're coming from Selby, or on your left if you're coming from Howden.
Address: Main Street Bubwith Selby York YO8 6LX
Show on Google Maps