Ballroom & Latin Absolute Beginners
Class run by Adrian Marsh School of Dance
Tuesday 28 January 2020
In Past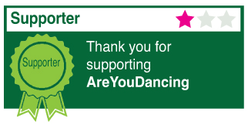 Ballroom and Latin New class for Absolute Beginners
Dance Styles: Cha Cha Cha (Ballroom), Foxtrot, Modern Tango, Quickstep, Rumba, Waltz
Price: £7
Time: 20:30 - 21:30
Ticket Options: Pay on door
Want to learn to Waltz and/or Cha Cha Rumba
Adrian and Sara Marsh teach Ballroom and Latin at Kents Hill Park Primary School, Milton Keynes, MK7 6BY
Absolute Beginner Ballroom and LAtin at 8:30pm till 9:30pm
This is a regular weekly dance class to learn, Waltz, Quickstep, Foxtrot, Tango, Rumba and Cha Cha Cha.
Adrian and Sara Marsh look forward to meeting you.
info@adrianmarshschoolofdance.com
Adrian and I have more Absolute Beginners dance classes available at our other venues, please email for more options email: info@adrianmarshschoolofdance.com
or
2020
Absolute Beginners Le Roc Modern Jive Mondays 6:30pm at Oakgrove Primary School, MK10 9SG
Absolute Beginners Ballroom & Latin Tuesdays 8:30pm at Kents Hill Park Primary School, MK7 6BZ
Absolute Beginners 50s Jive Rock n Roll Wednesdays 8:30pm at Wing Village Hall, LU7 0NN
Absolute Beginners Line Dance Mondays, Tuesdays and Thursdays at midday (various venues)
Kents Hill Park Primary School, MK venue
Our newest venue:
A brand new primary school built and opened in September 2018.
A primary school close to the Open University.
Address: Kents Hill Park Primary School, Timbold Drive, Kents Hill Park Milton Keynes Milton Keynes Buckinghamshire MK7 6BZ
Show on Google Maps