Ballroom & Latin Beginners
Class run by Adrian Marsh School of Dance
Wednesday 29 January 2020
In Past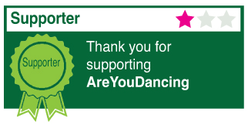 Absolute Beginners Ballroom & Latin.
Dance Styles: Cha Cha Cha (Ballroom), Foxtrot, Modern Tango, Quickstep, Rumba, Waltz
Price: £7
Time: 18:30 - 19:30
Ticket Options: Pay on door
Beginners Ballroom & Latin
At a New Time - straight from work - 6:30pm till 7:30pm - every Wednesday
At Wing Village Hall, off the A418, leighton road, LU7 0NN.
Learn to dance for a wedding, Christmas party or cruise coming up. Do something together with your partner and fall in love again on the dance floor with the passion of dance. There is nothing on the television so learn to dance and try new things.
All you need to do is turn up and pay on arrival, no need to book. Just bring a bottle of water with you.
Adrian and Sara Marsh look forward to meeting you. info@adrianmarshschoolofdance.com
Price Pay on arrival £7 per person
Adrian and Sara Marsh look forward to meeting you.
info@adrianmarshschoolofdance.com
Adrian and I have more Absolute Beginners dance classes available at our other venues, please email for more options email: info@adrianmarshschoolofdance.com
or
2020
Absolute Beginners Le Roc Modern Jive Mondays 6:30pm at Oakgrove Primary School, MK10 9SG
Absolute Beginners Ballroom & Latin Tuesdays 8:30pm at Kents Hill Park Primary School, MK7 6BZ
Absolute Beginners 50s Jive Rock n Roll Wednesdays 8:30pm at Wing Village Hall, LU7 0NN
Absolute Beginners Line Dance Mondays, Tuesdays and Thursdays at midday (various venues)
Wing Village Hall venue
Village Hall located on the main A418 Aylesbury Road in Wing, near Leighton Buzzard
call for more details and availability
Car parking is available on site and opposite in the local recreation ground car park
Address: High Street Wing Bedfordshire LU7 0NN
Show on Google Maps