Ballroom & Latin Beginners
Class run by Adrian Marsh School of Dance
Tuesday 28 January 2020
In Past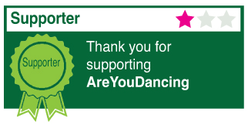 A Brand New Class and Venue, Ballroom & Latin for Absolute Beginners
Dance Styles: Cha Cha Cha (Ballroom), Foxtrot, Modern Tango, Quickstep, Rumba, Waltz
Price: £7 per person
Time: 7:30pm - 8:30pm
Ticket Options: Pay on door
Learn to Waltz for a wedding, Quickstep on your cuise or Rumba with your partner!
The class is fully instructed by qualified IDTA teachers.
Have you danced before? Yes? Join our Beginners Dance class
All you need to do is turn up and pay on arrival, no need to book. Just bring a bottle of water with you.
A class for those you can a dance waltz and/or cha cha basics, Ballroom & Latin class for Beginners in Milton Keynes 7:30pm till 8:30pm
In our newest venue, a newly built Primary School, close to the Open University - Kents Hill Park Primary School, Timbold Drive, Kents Hill Park, Milton Keynes, MK7 6BZ
Adrian and Sara Marsh look forward to meeting you.
info@adrianmarshschoolofdance.com
Adrian and I have more Absolute Beginners dance classes available at our other venues, please email for more options email: info@adrianmarshschoolofdance.com
or
2020
Absolute Beginners Le Roc Modern Jive Mondays 6:30pm at Oakgrove Primary School, MK10 9SG
Absolute Beginners Ballroom & Latin Tuesdays 8:30pm at Kents Hill Park Primary School, MK7 6BZ
Absolute Beginners 50s Jive Rock n Roll Wednesdays 8:30pm at Wing Village Hall, LU7 0NN
Absolute Beginners Line Dance Mondays, Tuesdays and Thursdays at midday (various venues)
Kents Hill Park Primary School, MK venue
Our newest venue:
A brand new primary school built and opened in September 2018.
A primary school close to the Open University.
Address: Kents Hill Park Primary School, Timbold Drive, Kents Hill Park Milton Keynes Milton Keynes Buckinghamshire MK7 6BZ
Show on Google Maps