Ceroc St Marys
Class run by SO Ceroc (Southampton)
Tuesday 14 April 2020
In Past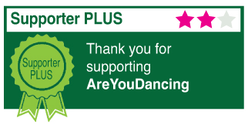 Learn Ceroc & have mid-week fun learning a new brilliantly social skill!
Dance Styles: Leroc, Modern Jive, Smooth Modern Jive
Price: £8.50 members. £2.50 one-off memberhip fee
Time: Doors Open 7.45pm. Dancing until 11pm
Ticket Options: Pay on door
A GREAT FUN NIGHT OUT!
Keep fit, have fun, meet new friends and pick up some moves in this easy to learn Modern jive dance. Beginners welcome every week, no need to book, no partner needed, just turn up!
Please check www.Ceroc.com/so for occasional closed dates and more info.
8.00pm COMPLETE BEGINNER'S CLASS
Every night without fail there will be a good number of complete beginners. Therefore we hold a 40 minute class where you will learn 3 of the easier moves.
FREESTYLE
A short break where where the music plays and is a great opportunity to practice the moves you have just learnt.
8.50pm REPEAT BEGINNERS SESSION
Held in a different room at the same time as the Intermediate class this session is taken by our Taxi Dancers who will help you go through the same moves you have just learnt a second time. repetition and muscle memory is the way forward!
8.50pm BEGINNERS PLUS CLASS
The next step up from Beginners. i
8.50pm INTERMEDIATE CLASS
When you feel comfortable with the beginner's class, you can move up to the next class where you will learn up to 3 harder moves.
It usually takes about 8 beginner's classes to master the basic moves.
FREESTYLE
After the Intermediate class, your night out really starts when the DJ takes command of the freestyle session until 11pm. Pure uninterrupted dance where you can improve your CEROC style and soak up the atmosphere!
We'll look forward to seeing you on the dance floor and helping you learn to dance!
St Marys Independent School venue
We meet every Tuesday at St Marys. Plentiful FREE Parking on site, gorgeous wooden dance floor, soft drinks bar (you can bring your own alcohol). Please bring a water bottle with you to help save plastic wastage.
***Please use Midanbury Road entrance***
When you enter the school from the Midanbury lane entrance (all other entrances will be closed on the night), drive all the way down the drive, passing the large white school buliding on your right. Ahead of you, you will see a large playground, and a large single storey building- we dance in there!
Address: 57 Midanbury Road, Bitterne Park Southampton Hampshire SO18 4DJ
Show on Google Maps