Sunday afternoon Balboa Class
Class run by Dance Club Balboa
Sunday 13 December 2020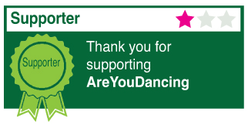 Class with three levels (beginner, improver and intermediate)
Dance Styles: Balboa
Price: £7 for one class, £10 for two classes, £12 for three classes
Time: 1.45pm till 5.30pm
Ticket Options: Pay on door
Our regular monthly class is held on Sunday afternoons. It's usually the second Sunday of the month but occasionally we have to change the date due to clashes with other Balboa events. Please check our Facebook page for details. We have three levels, each an hour long, with practice time in between.
The first level, at 1.45pm, is suitable for complete beginners as well as those looking to improve their technique or try out the other role from the one they usually dance. It is usually all Pure Bal.
The second level, at 3pm, is suitable for improver dancers who have done some of our previous classes, or who already know a little Balboa, in addition to those wanting to go over the basic Bal-Swing moves in addition to some more Pure Bal.
The third level, at 4.15pm, is suitable for improver/intermediate dancers who have probably been dancing Balboa for at least a year, and the class is at a faster speed (both in the teaching/learning and in the music!). It includes more advanced Bal Swing moves in addition to variations for both Bal Swing and Pure Bal, and looks further at things like Lead/Follow connection and musicality.
You can do one, two, or three classes. We look forward to seeing you there :).
The Elephant House venue
Community space
Dean Street is off Dean Lane, almost opposite the swimming pool.
Address: 1 Dean Street, Bedminster Bristol Bristol BS3 1BG
Show on Google Maps