Everyone Leads Everyone Follows
Workshop run by Dance Club Balboa
Saturday 25 January 2020
In Past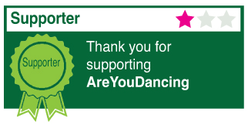 ELEF Balboa workshop
Dance Styles: Balboa
Price: £30 (£25 conc)
Time: 2pm till 6.30pm
Ticket Options: Ticket Only (Prebooking essential)
Our ELEF Balboa workshop will be held at our perfect venue, the lovely ELEFant House! ELEF stands for 'Everyone Leads Everyone Follows' which means that half the time you'll be dancing the opposite role to the one you usually dance. Teachers will be Sam Dobbie and Jane Warring.
Come and give it a try and it will open up a whole world of opportunities for your dancing. You'll get to dance with everyone in the room, you'll develop an appreciation of what the other role does, you'll get better at your primary role, you'll have a greater understanding of the mechanics of the dance and how it works, you'll listen to the music in a different way... and that's just for starters.
The workshop will consist of three separate one hour sessions with half an hour in between each for practice time and one-to-one surgeries. It will be aimed mainly at those who are Improver/Intermediate Level in their primary role but even if you've only done one Balboa class do talk to us about signing up as learning both roles from the beginning of your dance journey can have definite advantages :). As at all our workshops, there will be an endless supply of hot drinks and biscuits to keep you going.
Email danceclubbalboa@gmail.com and we'll send you the payment details. This event is advanced booking only, and your place will be confirmed once you've paid.
The Elephant House venue
Community space
Dean Street is off Dean Lane, almost opposite the swimming pool.
Address: 1 Dean Street, Bedminster Bristol Bristol BS3 1BG
Show on Google Maps