Rothwell (Leeds) Freestyle
Dance run by Jive Infusion
Saturday 29 February 2020
In Past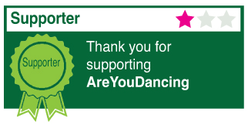 Freestyle dancing to a range of music from slow blues or rhythmic latin to current pop.
Dance Styles: Leroc, Modern Jive
Price: Regular Price £8.
Time: 8:00pm to 11:30pm
Ticket Options: Pay on door
The venue has extra large wooden sprung dance floor. Ample tables and seating. There is no bar, but we provide free water and cordial. Bring your own soft/alcoholic drinks if preferred.
We teach beginner and intermediate level dance classes every THURSDAY at
BLACKBURN HALL, Commercial St., Rothwell, LEEDS, LS26 0AW. We also run quarterly Saturday freestyle dances.
The venue is approximately 6 miles from both Wakefield and Leeds City Centres
and 2.5 miles from Junction 30 M62.
Blackburn Hall, Rothwell venue
Beautiful venue with extra large sprung floor and very impressive stage. There's no bar but we provide free water and cordial or you are very welcome to bring your own soft or alcoholic drinks.
Beginners Class 7.30pm. Beginners' revision/Intermediate Class 9.00pm. Dancing until 10.30pm. Broad range of music, including current pop, latin, swing, blues and smooth.
Address: Commercial Street, Rothwell Leeds West Yorkshire LS26 0AW
Show on Google Maps
Jive Infusion organiser
Adult dance classes and social night in South & West Yorkshire. Partner Dancing Made Easy
More information about Jive Infusion including other forthcoming events