Argentine Tango Classes + Practica
Class run by Island Dance Wizards
Wednesday 22 April 2020
In Past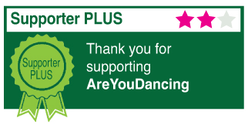 Friendly & Fun: Beginners & Intermediate/Advanced Tango lessons plus Social Dance/Practica
Dance Styles: Argentine Tango, Salon Tango, Tango Nuevo, Tango Vals, Tango Fusion
Price: Just £8.00 all evening (includes 50p donation to Chapel Restoration Fund)
Time: Doors open 19.45, Beginners/Technique 20.00, Intermediate/Advanced 21.00, Practica from 22.00- 22.30
Ticket Options: Pay on door
Learning to dance REAL Argentine Tango is easier and a lot more fun than you might think!
Mandy and Basil, the Island Dance Wizards, are the ONLY full-time Professional Dance Teachers teaching Argentine Tango on the Island. They also specialise in teaching Tango to those coming from other dance styles and show dancers how to adapt the dance to modern music to get you up and dancing Argentine Tango in the REAL World at pubs, clubs, dance freestyles and other social events as WELL as at Traditional Milongas...
Our WEDNESDAY classes take place at the Island's premier Dance Venue - a gorgeous character building in SHANKLIN. The lessons build on the highest level of traditional technique for successful social dancing and feature playful footwork including barridas, ganchos, sacadas etc. We always concentrate on teaching how to really connect and improvise/react to music as a couple rather than just on showing 'steps' or 'moves'... So come and learn this Intense and Stylish dance with our Friendly, Fun Lessons!!
Experienced Tangueros/Tangueras, Island Visitors and Total Beginners can ALL just drop in on the weeks that suit them - there's no previous dance experience required, you pay just £8.00 per evening (no registration or course fees required) and you don't even need to bring a partner!
Tango - don't just Learn it - DANCE it!!
Email for details and/or to ask about Private Lessons and Special Events - and please check your junk/spam folder for replies!
R.O.A.R.

The Chapel at Winchester House venue
The Island's Premier Dance Venue - a former Chapel that is now part of the YMCA site at Shanklin - Character building with a huge suspended floor and a lovely, calming atmosphere. Expect a friendly and supportive class/event with a warm welcome for beginners from experienced Dancers and expert tuition for BOTH roles from a full time Professional Teaching couple...
Refreshments: Tea, Coffee and Squash provided.
If coming from Shanklin town centre towards Sandown, watch out for the YMCA sign before the bridge over the railway and turn right just before the YMCA and then immediately left into the Car Park. Walk towards the main building and then follow the sign to 'Reception' to arrive at the Chapel at the Sandown end of the site.
Address: YMCA, Sandown Road Shanklin Isle of Wight PO37 6HU
Show on Google Maps