Beginner's St. Louis Shag Class
Class run by Canterbury Jive
Monday 24 February 2020
In Past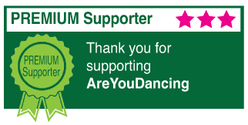 Beginner's St.Louis Shag classes through February
Dance Styles: Collegiate Shag
Price: £5/£4 reduced
Time: 7.30pm-9.30pm
Ticket Options: Pay on door
We are restarting the weekly Monday night Canterbury swing dance classes for 2020 with St Louis Shag, a great dance from the 1930s that evolved from Charleston, Lindyhop and Collegiate Shag in St. Louis, Missouri.
This is a great swing dance that's absolutely perfect for brand new dancers as it's so easy to learn the basics using a very silly and funny method!
£5/£4 reduced, no dance experience or partner needed. Wear loose comfortable clothing and shoes that don't grip the floor to much.
Further details:
revboogie@hotmail.co.uk
Canterbury Baptist Church Hall venue
Good size hall, well lit with a high ceiling and an excellent sound system. Toilets and a kitchen are available.
Canterbury Baptist Church hall is situated close to the city centre, just off the ring road, near the central bus station and in walking distance from both Canterbury East and West Railway Stations.
Several car parks are located in Canterbury city centre, many of which are within walking distance. Canterbury 'park and ride' buses run every 7-8 minutes from Wincheap, New Dover Road and Sturry Road directly to Canterbury City Centre. Canterbury Bus Station is just 5 minute walk away and there is a bus stop nearly outside the hall and on the opposite side of the road which are stops for the 12, 15, 16, 23A, 43 and 89.
Address: Canterbury Baptist Church Hall St. George's Place Canterbury Kent CT1 1UT
Show on Google Maps

Canterbury Jive organiser
Jive and other swing dance classes and events in and around Canterbury and guest work elsewhere
More information about Canterbury Jive including other forthcoming events