One to One and Wedding First Dance
Special run by Rayners School of Dancing
Saturday 09 May 2020
In Past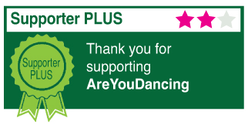 Lessons tailored to you. A teacher will work with you to achieve your goals.
Dance Styles: American Smooth, Argentine Tango, Cha Cha Cha (Ballroom), Foxtrot, Freestyle, Jive (Ballroom), Modern Tango, Old Time Dancing, Paso Doble, Quickstep, Rumba, Salsa, Samba, Popular Sequence, Viennese Waltz, Waltz, Modern Sequence
Price: starts from £15 per half hour slot depending on number of learners and the teacher.
Time: Available morning to evening 6 days a week. Closed Tuesday's
Ticket Options: Pay on door
These lessons give you the ability to learn at your own pace, work on a dance you want to achieve. This may be your wedding dance or working towards examinations or just catching up on a missed class. We are open all day except Tuesday's bearing in mind classes are held most evenings. Weekends usually have more space available.
Price will depend on the number of people taking part in the lesson and the teacher assigned to your lesson. One to one lessons start from £30 an hour which is for the slot (ie for a couple) this can be broken down in to half hour slots.
Please contact us with times and days when you are available and we will try to accommodate you.
Contact Dallas: 07850 417 105
www.raynersschoolofdancing.com
The Hall venue
Beginners line dance class covering Latin and general solo dancing for fun and enjoyment. Parking available we are the next turning after the pizza shop
Address: Ashwell Avenue Sundon Park LUTON Bedfordshire LU3 3AU
Show on Google Maps