Beginner Ballroom & Latin
Class run by Forever Yung Dance
Sunday 26 April 2020
In Past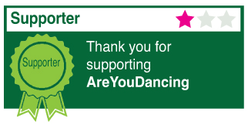 Beginner Ballroom & Latin Classes covering Foxtrot, Jive, Cha Cha and Waltz.
Dance Styles: Cha Cha Cha (Ballroom), Foxtrot, Jive (Ballroom), Modern Tango, Quickstep, Rumba, Samba, Viennese Waltz, Waltz
Price: £5 per person, per class
Time: 6:00 - 7:00pm
Ticket Options: Not yet specified
Adult Beginner Ballroom & Latin Dance Classes.
Sunday Evenings.
No Partner Required. Singles & Couples Welcome.
These classes cover the basics of 4 dances to provide a strong foundation for dancing socially. Program covers Foxtrot, Jive, Cha Cha and Waltz.
Our Beginner Class is designed to allow Beginner dancers to join every other week (we introduce a new dance every other week).
Although this program is usually 8 weeks, this set of classes will run for 4 weeks and take a spring break until 14 June. It will then continue on from week 5 (see below for dates / breakdown)...
Up-coming start dates:
26 Apr (Foxtrot), 10 May (Jive)
Spring Break
14 June (Cha Cha), 28 June (Waltz)
* People with some experience may join at any time.
£20 per person per 4 weeks (Prepaid) OR £7.50 per class (Drop-in).
* Classes will only run if there is sufficient registration.
St Michaels Parish Hall venue
Address: Walkergate ALNWICK Northumberland NE66 1NB.
Show on Google Maps