Ballroom and Latin
Class run by Lesley's Social Dancing
Monday 24 February 2020
In Past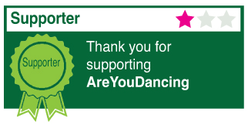 New Beginners Taster Course Level 1
Dance Styles: Cha Cha Cha (Ballroom), Foxtrot, Jive (Ballroom), Modern Tango, Quickstep, Rumba, Samba, Waltz
Price: Pre Paid £36 per Dancer or Pay on the Door at £7 per Dancer
Time: Beginners 6.15pm
Ticket Options: Pay on door
New Beginners Taster Level 1 Course: 6.15pm This is a Pre Paid 6 week Course which can also be paid weekly.
The Course is designed to get you dancing around the floor within minutes and by the end of the course you will have covered 4 dance styles, Waltz, Cha Cha Cha, Quickstep and Jive!
Give me a call or email me for further information and sign up details.
Beginners Level 2: 7.15 to 8.15pm This course runs on from the Taster Level 1 and the dancers will add to the dances learnt in Level 1 and learn another dance style.
Both Courses are for the New Dancer to enjoy learning a new skill of Social Dancing whilst having a fun and relaxed time.
Kind Regards
Lesley Collier
07941 021294
lesleycollier_@hotmail.com
Hemingford Pavilion venue
Hemingford Grey Sports Pavilion has a sprung wooden floor, parking, and air conditioning for the summer months. There is a Sports Bar upstairs.
Leave A14 at Junction for St Ives
Address: Hemingford Pavilion, Manor Road, Hemingford Grey, Cambs., Pe28 9BX Hemingford Grey Cambridgeshire PE28 9BX
Show on Google Maps