Charity Swing Dance Class, Ashford
Class run by Canterbury Jive
Wednesday 15 April 2020
In Past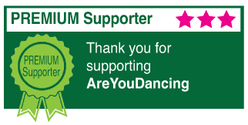 This event has been Cancelled
Short swing/vintage dance class in aid of Ashford's Family Food Bank
Dance Styles: 1940s Jive, Balboa, Collegiate Shag, Lindy Hop, Rock n Roll
Price: 4 donations (dried tin food, long life drinks, essential toiletries)
Time: 8.45pm
Ticket Options: Pay on door
Each Wednesday we teach a short beginner's swing or vintage dance at 8.45pm
Followed by a great selection of music from the mid 20th century for you to practice your new found moves or brush up your Jive, Lindyhop, Charleston, Balboa, Shag, Foxtrot, Quickstep, Mambo, Salsa etc.
Entry: 4 donations for Ashford's Family Foodbank (tinned/dried food, long life drinks, essential toiletries, pet food, cleaning products etc).
Please spread the word, share and invite any friends you think would like to join in, thank you.
Further details:
revboogie@hotmail.co.uk

Canterbury Jive organiser
Jive and other swing dance classes and events in and around Canterbury and guest work elsewhere
More information about Canterbury Jive including other forthcoming events