ONLINE Move Better, Dance Better
Class run by Moving Experience
Sunday 10 May 2020
In Past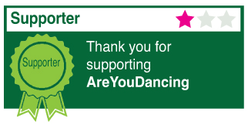 Move & dance better with Feldenkrais Awareness Through Movement classes!
Dance Styles: Argentine Tango, Lindy Hop, West Coast Swing
Price: Check website for details - www,movingexperience.eu
Time: Thursdays 7.30-9 pm, Sundays 11am-12.30pm
Ticket Options: Ticket Only (Prebooking essential)
ONLINE class via zoom to keep everybody safe and grounded!
Moving Experience is offering Feldenkrais Group Classes so called Awareness Through Movement (ATM) classes ONLINE!
Thursday evenings, 7.30 – 9 pm GMT
Sunday mornings, 11 am – 12.30 pm GMT
Book now, send a message to info@movingexperience.eu, pay me (I'll send you the payment details) and you'll receive the link(s) to join us every week Thursdays & Sundays.
Bärbel Rücker - Moving Experience
Website - www.movingexperience.eu
FB page - Moving Experience
FB page - Tango DJ Bärbel Rücker
MovingExperience Online venue
In order to keep everybody safe and grounded Moving Experience comes to YOU!
I am teaching regular classes & workshops ONLINE via Zoom and you are welcome to join from wherever you are. Zoom is pretty straightforward to use. I suggest you'll test and get familiar with zoom via their test page - zoom.us/test.
That means you'll only need: (1) internet, (2) a computer, laptop, tablet, or smart phone with a camera and microphone.
Join us for one or all of these classes ONLINE on zoom.
(1) Book your space via info@movingexperience.eu.
(2) Secure your space by paying in advance via bank transfer or via PayPal.me.
(3) Once you have paid you will receive the link to the online class(es).
Address: The Flat, r/o The Old Bungalow Gorsty Knoll Coleford Gloucestershire GL16 7LR
Show on Google Maps