Shag School Live, Brighton
Class run by Brighthelm Swing
Thursday 09 July 2020
In Past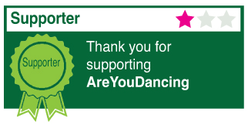 Your regular partnered Collegiate Shag class
Dance Styles: Collegiate Shag
Price: £5 per screen
Time: Learn and Practise online from 7.30pm
Ticket Options: Ticket Only (Prebooking essential)
This event is suitable for both beginners who already dance swing, and more experienced Shagsters. This regular session gives us a chance to improve and practice our partnered Shag dance.
Small classes - only 5 screens available to ensure feedback and interaction.
You need to book your screen by 6.30pm on the Wednesday before class. Priority will be given to partnered Shag dancers. Spare screens will be offered to solo Shagsters from 7pm.
Book your screen by emailing brighthelmswing@gmail.com
See you on the dance floor!
#shagon
Your dance floor venue
Learn and practise Collegiate Shag with your household dance partner on Thursdays from 7.30pm.
Address: Your place Sussex