Balboa with Just Jive LindyHop
Class run by Just Jive Lindy Hop
Monday 05 October 2020
In Past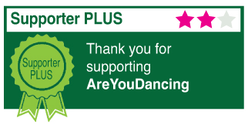 Balboa Class Beginners and Intermediate levels. Beginners 7.15pm Inters 8.15pm
Dance Styles: Balboa, Charleston, Jazz Steps, Lindy Hop
Price: £6 per person. Block of 6 Classes £36 paid in advance.
Time: 7.15pm - 9.15pm
Ticket Options: Ticket Only (Prebooking essential)
The Balboa is a swing dance that originated in Southern California during the 1920s and enjoyed huge popularity during the 1930s and 1940s. The term Balboa originally referred to a dance characterised by its close embrace and full body connection. It emphasises rhythmic weight shifts and lead-follow partnership.
Have fun with us and learn a new skill along the way. Get fit and increase your social life. Wear comfy clothes and smooth soled flat shoes.
**COVID-19** restrictions in place. Please visit our website for full information.
www.justjive.com
Kings Stanley Village Hall venue
Address: Marling Close, Broad Street, Kings Stanley. Stroud Gloucestershire GL10 3PN
Show on Google Maps