Strolls & Jive Inters with JustJive
Class run by Just Jive Lindy Hop
Tuesday 13 October 2020
In Past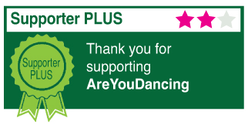 Shim Sham & Jitterbug Strolls Workshop 7-8pm then Swing Jive Intermediate Level 8-9pm
Dance Styles: Boogie Woogie, Charleston, Jazz Steps, Lindy Hop
Price: £6 per person per Class. Block of 6 Classes £36
Time: 7.00pm 9.00pm
Ticket Options: Ticket Only (Prebooking essential)
Workshop 1 The Shim Sham. No Partner Needed.
The Shim Sham is a classic line dance routine which is performed at most Swing Dance social events. It combines various Jazz Steps and is danced to "Tain't What You Do" by Billy May. Frankie Manning the king of Swing and Lindy Hop introduced it at New York's Swing Dance Society dances in the mid '80's and it's been popular ever since.
We will break it down into easy to follow sections over several weeks. Just bring a good sense of humour and flat smooth soled shoes.
Swing Jive Intermediate Level
Swing Jive in this beautiful setting. For couples who have already mastered the basic's of beginners jive classes. Have fun with us and learn a new skill along the way. Get fit and increase your social life. Wear comfy clothes and smooth soled flat shoes. 
With Jim and Sarah
Covid -19 Changes are in place. Please visit our website for full information and procedures.
www.justjive.com/classes
PRE BOOK AND PAY TO RESERVE YOUR SPACE. NO PAYMENT WILL BE TAKEN ON THE NIGHT. https://justjive.com/shop
The Tetbury Goods Shed. venue
This beautifully renovated goods shed has a large car park on site. No bar please bring your own soft drinks.
We will be teaching beginners level this term, however, we will include intermediate level in January 2018.
Improve your social life and at the same time boost your self-confidence! You get to meet new people. Get fit without feeling you are exercising. It's great fun!!!
Never danced before? The best place to start is in a beginners class.
The atmosphere is relaxed and friendly and everything is done in a humorous manner with the emphasis on fun.
Everything taught step by step, all at a nice steady pace. The classes will be working on lead and follow whilst building confidence so that you can get your steps together and dance with style.
Address: 31,Gumstool Hill,Tetbury, Tetbury Gloucestershire GL8 8DG
Show on Google Maps