4 Week Bubble Lindy Hop Course
Class run by JiveSwing.Com
Wednesday 23 September 2020
In Past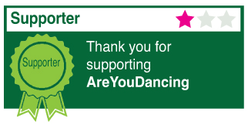 Int-Int/Adv Lindy Hop Course
Dance Styles: Charleston, Jazz Steps, Lindy Hop
Price: £39.99 for 4 week course
Time: 8.00pm-9.00pm
Ticket Options: Ticket Only (Prebooking essential)
WE ARE BACK!
Wednesdays 23rd & 30th September, 7th & 14th October 2020
8.10pm-9.10pm Intermediate -Intermediate/Advanced level Lindy Hop!
As we begin a phased return to classes, Jiveswing are starting off with a 4 week Lindy Hop Course.
Numbers will be strictly limited & you'll be required to book in couples only, as there will be no partner rotation.
SAFE PRACTICES:
Due to the current climate Jiveswing have taken a number of measures to enhance everyone's safety, including the following:
*Pre Booking only - strictly no drop ins
*All dancers adequately distanced
*Floor markers in place to allocate each dancers a floor space
*Hand sanitiser readily available
*One way entry & exit system
*Temperature taken on arrival
*Adequate ventilation
*Limited numbers
BOOKING:
You must book with a partner (please state your partners name on your booking form).
COSTS:
4 Week Course Lindy Hop Course : 39.99pp
4 Week Lindy Hop Course + 4 Weeks Online Class Access £59.99
Both Lindy Hop & Solo Jazz Courses - £69.99
CLASS PASSES:
If you have a Jiveswing Class Pass or a workshop credit and would like to use these toward a course, please email us at admin@jiveswing.com.
Numbers are strictly limited so would advise you to BOOK NOW!! Upon booking you will receive extra information on new protocols in place.
www.jiveswing.com/booking
ADDRESS:
Church of our Saviour, Ashton Place, Chelmer Village, Chelmsford, CM2 6ST
https://jiveswing.com/booking/
Church Of Our Saviour venue
Address: Ashton Place, Chelmer Village, CM2 6ST Chelmsford, Essex Chelmsford Essex CM2 6ST
Show on Google Maps