Ballroom/Latin social Dance
Dance run by Could I Have This Dance
Saturday 05 December 2020
In Past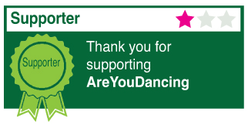 Saturday Social dance for all levels of Ballroom & Latin American dancers. FULLY BOOKED
Dance Styles: Cha Cha Cha (Ballroom), Foxtrot, Jive (Ballroom), Modern Tango, Quickstep, Rumba, Samba, Viennese Waltz, Waltz
Price: £7.50p per person in advance via BACS payment
Time: 8.00- 10.00pm
Ticket Options: Sold Out
Social Dance for Ballroom and Latin American dancing. Due to current circumstances it is limited to couples. Please get in contact to book a places or for full details.
Epsom Methodist Church venue
Please use the Ashley Centre for parking - 2 minutes from venue. There is a flat rate fee after 6.30pm (On site parking is limited due to the number of events run at the church each evening). There is both a beginners and intermediate class. Please contact us to see if this class would be suitable for you.
Address: Ashley Road Epsom Surrey