2 Left Feet Dancing
Line Dance and Keep Dancing Classes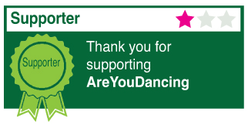 About 2 Left Feet Dancing
Line Dance Classes on
Mondays 7-8.30pm : Beginners and Improvers at Turnberries Community Centre, Thornbury Wednesdays 10.30am -12 at Shireway community centre, Yate
Wednesdays 8pm-10pm: Improvers and Intermediates at Kingshill House Dursley, Glos.
Contact Gill on 01453 545849 or email twoleftfeetdancing@yahoo.com for more details.
Monthly socials, weekends away in Clevedon and available for fetes, parties etc.
KEEP DANCING in LINE CLASSES - at Kingshill House, Dursley (Wed pm) and Hill Village Hall, Berkeley (Thurs pm)
No matter what your age, level or fitness
*Classes suitable for all abilities.
*Learn and perfect a different Ballroom or Latin style dance routine each week (without a partner)
*A fun, enjoyable way to improve your health, and wellbeing whilst making new friends.
*Classes on a pay as you dance basis with new students welcome at any time.
Contact Name: Gill Butler
Dance Styles: Line Dance, Old Time Dancing, General Dance Fitness
Roles: Event Organiser, Dance Teacher, Regular Dance Classes
Events: Class
Main Area: Gloucestershire
Website: http://www.2leftfeet.danceorg.uk/
Forthcoming Events
Date
Event Name/Venue
Description/Dance Styles
Two Left Feet Line Dance Class
The Awdry Room
Class
Suitable for Improvers and above.
Line Dance
Keep Dancing in Line
The Awdry Room
Class
Learn a different Ballroom or Latin dance style each week. No partner needed.
Cha Cha Cha (Ballroom), General Dance Fitness
Mainstream line dance class
Shireway Community Centre
Class
Suitable for Improvers and above.
Line Dance
Dance in Line
Hill Village Hall
Class
Suitable for all ages and abilities
5 Rhythms, General Dance Fitness
Beginner Line Dance Class
Turnberries Community Centre
Class
Suitable for all ages and abilities
Line Dance
Mainstream line dance class
Shireway Community Centre
Class
Suitable for Improvers and above.
Line Dance
Two Left Feet Line Dance Class
The Awdry Room
Class
Suitable for Improvers and above.
Line Dance
Keep Dancing in Line
The Awdry Room
Class
Learn a different Ballroom or Latin dance style each week. No partner needed.
Cha Cha Cha (Ballroom), General Dance Fitness
Mainstream line dance class
Shireway Community Centre
Class
Suitable for Improvers and above.
Line Dance
Dance in Line
Hill Village Hall
Class
Suitable for all ages and abilities
5 Rhythms, General Dance Fitness