2 Left Feet Dancing
Line Dance Classes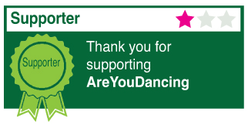 About 2 Left Feet Dancing
Line Dance Classes on
Mondays 7-9pm : Beginners and Improvers at Turnberries Community Centre, Thornbury Wednesdays 9.30am-10.30am : Beginner Line dance class
10.30am -12.00 Mainstream line dancing at Shireway community centre, Yate
Wednesdays 7pm-8pm: Beginner Line Dance Class
8pm - 10pm Improvers and Intermediates at Dursley Community Centre, Rednock Drive, Glos.
Contact Gill on 01453 545849 or email twoleftfeetdancing@yahoo.com for more details.
Monthly socials, weekends away in Clevedon and available for fetes, parties etc.
IMPROVER LINE CLASSES - Hill Village Hall, Berkeley (Thurs pm)
No matter what your age, level or fitness
*Classes suitable for all abilities.
*Learn and perfect a different Line dance routine each week (without a partner)
*A fun, enjoyable way to improve your health, and wellbeing whilst making new friends.
*Classes on a pay as you dance basis with new students welcome at any time.
<!-- begin classfinder link -->
<script type="text/javascript">
//advert style 1
//<![CDATA[
ord=Math.random()*10000000000000000;
document.write('<script type="text/javascript" src="https://www.classfinder.org.uk/buttons?user=9804&type=2&ad=1&rand=' + ord + '"><\/script>');
//]]>
</script>
<!-- end classfinder link -->
Contact Name: Gill Butler
Dance Styles: Line Dance, Old Time Dancing, General Dance Fitness
Roles: Event Organiser, Dance Teacher, Regular Dance Classes
Events: Class
Main Area: Gloucestershire
Website: http://www.2leftfeet.danceorg.uk/