Dance Balboa
Balboa classes and workshops in Gloucestershire, plus dances and practice nights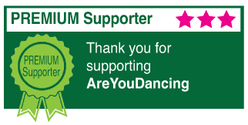 About Dance Balboa
Come along to our Balboa practice nights, which are held about every 4-6 weeks at Highnam near Gloucester.
We also run Balboa weekends and workshops with the very best international Balboa teachers. These are hugely popular, with places selling out very quickly.
Our BalBreak weekend is now a regular annual event, going from strength to strength, with accommodation, workshops and dances all in the same fabulous hotel.
We also co-organise Swing Fastival, a weekend dedicated to the faster swing styles of Balboa and Collegiate Shag. This is run in conjunction with Nicky and Jim from Swingbytes.
For more information please contact us using the "Contact aydBalboa" link above
Anna Stephenson and Tony Taylor (01242 870298)
Martyn and Sue Ridge (01452 503711)
We look forward to seeing you soon
Contact Name: Anna Stephenson and Tony Taylor
Dance Styles: Balboa
Roles: Event Organiser, Dance Teacher
Events: Dance, Dance Camp, Practice Night
Main Area: Gloucestershire
Website: http://www.dancebalboa.co.uk/
Forthcoming Events
Date
Event Name/Venue
Description/Dance Styles
Highnam Balboa Christmas Party
Gambier Parry Hall
Dance
All swing dancers welcome at our Christmas Party - Balboa, Sh@g, Fast Lindy and more
Balboa, Collegiate Shag, Lindy Hop
Balboa Practice Night - all levels
Gambier Parry Hall
Practice Night
Balboa Practice Night/Dance for all levels with extra help/tuition available
Balboa
Balboa Practice Night - all levels
Gambier Parry Hall
Practice Night
Balboa Practice Night/Dance for all levels with extra help/tuition available
Balboa
Bal n Slow Bal residential weekend
Best Western Livermead Cliff Hotel
Dance Camp
A residential dance weekend, all Balboa or half Slow Bal, 3 dances (live band Saturday)
Balboa
Balboa Practice Night - all levels
Gambier Parry Hall
Practice Night
Balboa Practice Night/Dance for all levels with extra help/tuition available
Balboa
Balboa Practice Night - all levels
Gambier Parry Hall
Practice Night
Balboa Practice Night/Dance for all levels with extra help/tuition available
Balboa
Balboa Practice Night - all levels
Gambier Parry Hall
Practice Night
Balboa Practice Night/Dance for all levels with extra help/tuition available
Balboa
Balboa Practice Night - all levels
Gambier Parry Hall
Practice Night
Balboa Practice Night/Dance for all levels with extra help/tuition available
Balboa
Balboa Practice Night - all levels
Gambier Parry Hall
Practice Night
Balboa Practice Night/Dance for all levels with extra help/tuition available
Balboa
Balboa Practice Night - all levels
Gambier Parry Hall
Practice Night
Balboa Practice Night/Dance for all levels with extra help/tuition available
Balboa