Lindy Buzz
Lindy Hop classes in Hitchin and Milton Keynes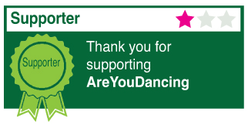 About Lindy Buzz
We offer weekly Lindy Hop classes in Milton Keynes and Hitchin (Herts).
We run our own evening on Wednesdays in Hitchin and on Tuesdays we team up with SwingdanceMK in Milton Keynes.
For both nights your teachers are Andy and Lindsay Fleming, and we offer 3 levels of tuition starting with complete beginner at 7:30pm. We also have social dancing between classes and from 9:50 to 10:30.
We welcome new beginners any week - come with or without a partner - just be prepared to have fun!
We strongly support other local Swing Dance events such as the monthly tea dancers known as "Swingrave".
Contact Name: Andy Fleming
Dance Styles: Boogie Woogie, Charleston, Collegiate Shag, Lindy Hop
Roles: Event Organiser, Dance Teacher, Regular Dance Classes, Private Lessons, DJ, Dance Performance
Main Area: Bedfordshire
Website: http://Www.lindybuzz.com