Naomi's Hotsy-Totsy Entertainment
Dance Band/Events Organiser specialising in Strict Tempo music for Ballroom, Latin, Swing & Sequence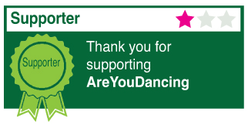 About Naomi's Hotsy-Totsy Entertainment
If you're seeking musical entertainment with a vintage twist, delivered by experienced performers and musicians who exude elegance, sophistication and glamour then Hotsy Totsy Entertainment Inc., can help. Naomi Hart and her various ensembles offer a variety of vintage musical experiences to suit a wide array of musical tastes, occasions and budgets.
From an intimate jazz duo, to an elegant quartet, to the hugely popular five or nine piece Hotsy-Totsy Band and right up to a spectacular 16 pc showband, our authentic vintage sounds will stamp period class and quality all over your event. Our aim is always to make your occasion, whatever the theme, a memorable one for everyone.
Interest in vintage and the classic sounds of a bygone era has captured the imagination of music lovers young and old across the UK in recent times. With this in mind, band leader, Naomi Hart, has created an ensemble of accomplished musicians that taps into the retro zeitgeist and growing demand for vintage-themed entertainment.
The phrase 'hotsy-totsy' was allegedly coined in the roaring 20s by American cartoonist, Billie de Beck, and is reputed to mean 'about as right as everything can be'. We think you'll agree that's the case when you see Naomi and her Hotsy Totsy Band in full, foxy and fabulous flow. If it's an atmosphere of magical musical mischief wrapped in rootin' tootin' good tunes and delivered with all the chutzpah of a flirty flapper you're after this is the band for you.
Contact Name: Naomi Hart
Dance Styles: 1940s Jive, Cha Cha Cha (Ballroom), Charleston, Foxtrot, Jazz Steps, Modern Tango, Quickstep, Rumba, Popular Sequence, Waltz
Roles: Event Organiser, Regular Dance Classes, Band/Soloist
Events: Dance
Main Area: Shropshire
Forthcoming Events
Date
Event Name/Venue
Description/Dance Styles
Social Evening Dance
Gilt Edge Club
Dance
Ballroom, Latin and Sequence
American Smooth, Cha Cha Cha (Ballroom), Foxtrot, Jive (Ballroom), Modern Tango, Old Time Dancing, Paso Doble, Quickstep, Rumba, Samba, Popular Sequence, Viennese Waltz, Waltz, Modern Sequence
Social Evening Dance
Gilt Edge Club
Dance
Ballroom, Latin and Sequence
American Smooth, Cha Cha Cha (Ballroom), Foxtrot, Jive (Ballroom), Modern Tango, Old Time Dancing, Paso Doble, Quickstep, Rumba, Samba, Popular Sequence, Viennese Waltz, Waltz, Modern Sequence
Social Evening Dance
Gilt Edge Club
Dance
Ballroom, Latin and Sequence
American Smooth, Cha Cha Cha (Ballroom), Foxtrot, Jive (Ballroom), Modern Tango, Old Time Dancing, Paso Doble, Quickstep, Rumba, Samba, Popular Sequence, Viennese Waltz, Waltz, Modern Sequence
Social Evening Dance
Gilt Edge Club
Dance
Ballroom, Latin and Sequence
American Smooth, Cha Cha Cha (Ballroom), Foxtrot, Jive (Ballroom), Modern Tango, Old Time Dancing, Paso Doble, Quickstep, Rumba, Samba, Popular Sequence, Viennese Waltz, Waltz, Modern Sequence
Social Evening Dance
Gilt Edge Club
Dance
Ballroom, Latin and Sequence
American Smooth, Cha Cha Cha (Ballroom), Foxtrot, Jive (Ballroom), Modern Tango, Old Time Dancing, Paso Doble, Quickstep, Rumba, Samba, Popular Sequence, Viennese Waltz, Waltz, Modern Sequence