JiveSwing.Com
International Teachers of Lindy Hop, 20's Charleston, Authentic Jazz, Blues etc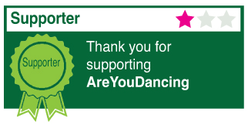 About JiveSwing.Com
JiveSwing.Com is the homepage of our team of international Teachers and performers of Lindy Hop, 20's Charleston, Authentic Jazz, Blues etc, serving the community of Hertfordshire, Essex, Bedfordshire, Middlesex around the M25 and north London borders.
We organise many annual events as well as regular classes and social dancing in Hertfordshire, Middlesex, Bedfordshire and Essex& London.
In addition the founder Joseph Sewell regularly features and choreographs for national TV, Music Videos and theatre.
Contact Name: Joseph Sewell
Dance Styles: 1940s Jive, Balboa, Blues, Charleston, Jazz, Jazz Steps, Lindy Hop, Modern Jive, Tap
Roles: Event Organiser, Dance Teacher, Regular Dance Classes, Wedding First Dance, Private Lessons, DJ, Dance Performance
Events: Class, Dance
Main Area: Hertfordshire
Website: http://www.jiveswing.com
Forthcoming Events
Date
Event Name/Venue
Description/Dance Styles
Jiveswing Online Classes


Online

Class
Online Swing Dance Classes with International teachers Joseph & Charlotte
Charleston, Jazz Steps, Lindy Hop, Tap
Jiveswing Online Classes


Online

Class
Online Swing Dance Classes with International teachers Joseph & Charlotte
Charleston, Jazz Steps, Lindy Hop, Tap
Jiveswing Online Classes


Online

Class
Online Swing Dance Classes with International teachers Joseph & Charlotte
Charleston, Jazz Steps, Lindy Hop, Tap
Jiveswing Online Classes


Online

Class
Online Swing Dance Classes with International teachers Joseph & Charlotte
Charleston, Jazz Steps, Lindy Hop, Tap
Jiveswing Online Classes


Online

Class
Online Swing Dance Classes with International teachers Joseph & Charlotte
Charleston, Jazz Steps, Lindy Hop, Tap
Harlem Nights - Watford
Beechen Grove Baptist Church
Dance
Recreating the feel of Harlem's Savoy Ballroom for one night in..
Balboa, Blues, Boogie Woogie, Charleston, Collegiate Shag, Jazz Steps, Lindy Hop
Jiveswing Online Classes


Online

Class
Online Swing Dance Classes with International teachers Joseph & Charlotte
Charleston, Jazz Steps, Lindy Hop, Tap
Retro Saturday's!
The Royal British Legion
Dance
A Swingin' social by the sea!
Balboa, Charleston, Jazz Steps, Lindy Hop
Jiveswing Online Classes


Online

Class
Online Swing Dance Classes with International teachers Joseph & Charlotte
Charleston, Jazz Steps, Lindy Hop, Tap
Boogie Shack
The Zoo Cafe
Dance
Top social dancing to an eclectic range of music from swing and jive to blues and RnB.
1940s Jive, Blues, Charleston, Jazz Steps, Lindy Hop