Club Jive
Modern Jive Freestyle dancing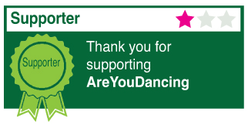 About Club Jive
We run regular freestyle 'Modern Jive' (a.k.a. 'Ceroc' / 'Leroc') dance nights in the Surrey area.
If you like a cool mix of pop, dance, latin, swing, blues, and nu-tango, then these events are for you :)
We operate a 'loyalty card' scheme, which gives one free entry after 6 visits. This means that you will get a discount of about 15% on the door price on average, if you are a regular visitor to our events.
Please check our web site for the latest information.
Contact Name: David Taylor
Dance Styles: Leroc, Modern Jive
Roles: Event Organiser, DJ
Events: Dance
Main Area: Surrey
Website: http://www.clubjive.com
Forthcoming Events
Date
Event Name/Venue
Description/Dance Styles
Club Jive 2 Room Freestyle
Addlestone Community Centre
Dance
Freestyle Modern Jive / WCS ++ dance night
Blues, Leroc, Modern Jive, West Coast Swing
Club Jive 2 Room Freestyle
Addlestone Community Centre
Dance
Freestyle Modern Jive / WCS ++ dance night
Blues, Leroc, Modern Jive, West Coast Swing
Club Jive 2 Room Freestyle
Addlestone Community Centre
Dance
Freestyle Modern Jive / WCS ++ dance night
Blues, Leroc, Modern Jive, West Coast Swing
Club Jive 2 Room Freestyle
Addlestone Community Centre
Dance
Freestyle Modern Jive / WCS ++ dance night
Blues, Leroc, Modern Jive, West Coast Swing
Club Jive 2 Room Freestyle
Addlestone Community Centre
Dance
Freestyle Modern Jive / WCS ++ dance night
Blues, Leroc, Modern Jive, West Coast Swing
Club Jive 2 Room Freestyle
Addlestone Community Centre
Dance
Freestyle Modern Jive / WCS ++ dance night
Blues, Leroc, Modern Jive, West Coast Swing
Club Jive 2 Room Freestyle
Addlestone Community Centre
Dance
Freestyle Modern Jive / WCS ++ dance night
Blues, Leroc, Modern Jive, West Coast Swing
Club Jive 2 Room Freestyle
Addlestone Community Centre
Dance
Freestyle Modern Jive / WCS ++ dance night
Blues, Leroc, Modern Jive, West Coast Swing
Club Jive 'Hogma Hoot'
Addlestone Community Centre
Dance
Club Jive 'Hogma Hoot'
Argentine Tango, Leroc, Modern Jive, West Coast Swing, Smooth Modern Jive