Colliers Wood Ballroom Dancers
All levels Sundays from 3.30pm to 10pm and Friday evenings for improvers from 7.15pm . Entry £10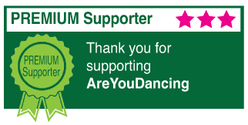 About Colliers Wood Ballroom Dancers
We hold ballroom dance classes every Sunday at beginner,elementary, improver and intermediate level from 3.30pm to 10pm. We specialise in empowering those who wish to learn how to dance for social dance purposes, or who wish to further improve their existing social dancing skills.
We get beginners to move and dance in time to the music, implement basics of leading and following and dancing around the floor with a partner in their first lesson,- 3.30pm to 5pm
The elementary class learn all the basic steps, in time to the music- 5pm to 8pm
The improver class learns elegance, which is also from 5 pm to 8 pm and is taught by former world champion Raymond Root
And the last class is technical perfection- 8pm to 10pm
We do social dancing from 8pm to 10pm and around fifty attend, some from other schools. Entry to the social dance only is just £5 payable on the door. We encourage all our students to change partners in both classes and social dancing, so we all learn from each other.
Friday evenings is for experienced dancers wishing to improve
Our aim is for all our students to improve their musicality, elegance and flexibility in moves on the floor plus ability to lead unambiguously and to follow gracefully and instinctively, Our policy is for this process to be rapid and cost effective for our students.
We particularly welcome those new to ballroom who already have good musicality, and have perhaps have already learned another dance form. Such students progress fast.
Contact Name: George Tudor-Hart
Dance Styles: Cha Cha Cha (Ballroom), Foxtrot, Jive (Ballroom), Modern Tango, Quickstep, Rumba, Viennese Waltz, Waltz
Roles: Event Organiser, Regular Dance Classes
Events: Dance, Class
Main Area: London SW
Website: http://www.meetup.com/ballroom-dancers-colliers-wood
Forthcoming Events
Date
Event Name/Venue
Description/Dance Styles
Black Tie weekly Friday lessons
Colliers Wood Community Centre
Class
Weekly technique class from improvers
Foxtrot, Modern Tango, Quickstep, Waltz
Inexpensive Ballroom Dance Classes
Colliers Wood Community Centre
Class
Three week intensive courses for most ballroom and Latin dances
Argentine Tango, Cha Cha (Club), Foxtrot, Modern Tango, Quickstep, Viennese Waltz, Waltz
Black Tie weekly Friday lessons
Colliers Wood Community Centre
Class
Weekly technique class from improvers
Foxtrot, Modern Tango, Quickstep, Waltz
Inexpensive Ballroom Dance Classes
Colliers Wood Community Centre
Class
Three week intensive courses for most ballroom and Latin dances
Argentine Tango, Cha Cha (Club), Foxtrot, Modern Tango, Quickstep, Viennese Waltz, Waltz
Black Tie weekly Friday lessons
Colliers Wood Community Centre
Class
Weekly technique class from improvers
Foxtrot, Modern Tango, Quickstep, Waltz
Inexpensive Ballroom Dance Classes
Colliers Wood Community Centre
Class
Three week intensive courses for most ballroom and Latin dances
Argentine Tango, Cha Cha (Club), Foxtrot, Modern Tango, Quickstep, Viennese Waltz, Waltz
Black Tie weekly Friday lessons
Colliers Wood Community Centre
Class
Weekly technique class from improvers
Foxtrot, Modern Tango, Quickstep, Waltz
Inexpensive Ballroom Dance Classes
Colliers Wood Community Centre
Class
Three week intensive courses for most ballroom and Latin dances
Argentine Tango, Cha Cha (Club), Foxtrot, Modern Tango, Quickstep, Viennese Waltz, Waltz
Black Tie weekly Friday lessons
Colliers Wood Community Centre
Class
Weekly technique class from improvers
Foxtrot, Modern Tango, Quickstep, Waltz
Black Tie Ballroom Club
Colliers Wood Community Centre
Dance
lack Tie dance to live orchestra with inclusive alcoholic drinks and snacks
Cha Cha Cha (Ballroom), Foxtrot, Jive (Ballroom), Quickstep, Rumba, Popular Sequence, Viennese Waltz, Waltz