Blackfordby Ballroom Fridays
Monthly Ballroom and Latin Social Dance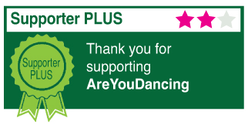 About Blackfordby Ballroom Fridays
New Dance Social evening.
Varied music and a lovely atmosphere so all can dance, enjoy and watch other styles. Practice time and social dancing, open to everyone, beginners and experienced dancers.
The majority of music will be Ballroom and Latin, but many tracks can be danced by different styles e.g. Foxtrot/LIndy hop. Occasional sequence only e.g. Mayfair Quickstep, Argentine stroll.
No competitor practice please.
8pm -10.30pm
£5 per person.
Bring your own refreshments, good parking at the hall, please park considerately if the car park is full.

Please like and share our Facebook page https://www.facebook.com/ballroomfridays/
you can message us and let us know you are attending
Next event.... Feb 28th TICKET ONLY SEE LISTING
Contact Name: Anna Barker
Dance Styles: 1940s Jive, Argentine Tango, Cha Cha Cha (Ballroom), Foxtrot, Jive (Ballroom), Lindy Hop, Modern Jive, Modern Tango, Paso Doble, Quickstep, Rock n Roll, Rumba, Salsa, Samba, Viennese Waltz, Waltz
Roles: Event Organiser
Main Area: Leicestershire