Swing Dance Leeds
Professiona level performances and Classes in vintage dances of the Swing era across the UK.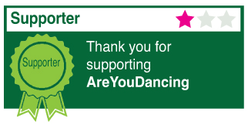 About Swing Dance Leeds
Swing Dance Leeds is a professional level organization providing high quality performances for events/ cabarets/ tv shows as well as top notch classes from birthday parties to advanced level technique.
Set up by Robert Shield, local dance instructor. Swing Dance Leeds is an easy way for people to search and find dancing in Leeds. Specifically vintage dancing from 1920's-1940's including Lindy Hop, Balboa, Charleston, Authentic Jazz and Blues.
Working with Tina Bunck, Rob is currently teaching several weekly classes including SwingJive and Lindy Fridays as well as workshops for dance schools and
offering private classes.
If you're new to Lindy and want more info on where to learn then this is the place for you.
If you're looking to advance your dancing by higher level classes, privates or workshops then this is the place for you!
...Would you like to dance?
Contact Name: Robert Shield
Dance Styles: Balboa, Blues, Charleston, Jazz Steps, Lindy Hop
Roles: Event Organiser, Dance Teacher, Regular Dance Classes, Wedding First Dance, Private Lessons, DJ, Dance Performance
Events: Class, Workshop
Main Area: West Yorkshire
Website: http://swingdanceleeds.com
Forthcoming Events
Date
Event Name/Venue
Description/Dance Styles
Hot Charleston Weekly
Activzone
Class
one hour drop-in class covering solo Charleston and vintage jazz moves
Charleston, Jazz Steps
California Routine Course
The Dance Studio Leeds
Class
Learn this classic lindy hop routine as choreographed by Frankie Manning!
Lindy Hop
Fundamentals Course
The Dance Studio Leeds
Class
4 Week Lindy Hop course covering the fundamentals and focus on social dancing
Lindy Hop
Hot Charleston Workshop
The Dance Studio Leeds
Workshop
Two hour workshop covering solo charleston, always starts with the basic.
Charleston, Jazz Steps
Hot Charleston Weekly
Activzone
Class
one hour drop-in class covering solo Charleston and vintage jazz moves
Charleston, Jazz Steps
California Routine Course
The Dance Studio Leeds
Class
Learn this classic lindy hop routine as choreographed by Frankie Manning!
Lindy Hop
Fundamentals Course
The Dance Studio Leeds
Class
4 Week Lindy Hop course covering the fundamentals and focus on social dancing
Lindy Hop
Hot Charleston Weekly
Activzone
Class
one hour drop-in class covering solo Charleston and vintage jazz moves
Charleston, Jazz Steps
California Routine Course
The Dance Studio Leeds
Class
Learn this classic lindy hop routine as choreographed by Frankie Manning!
Lindy Hop
Fundamentals Course
The Dance Studio Leeds
Class
4 Week Lindy Hop course covering the fundamentals and focus on social dancing
Lindy Hop