Bosworth School of Dance
Ballroom, latin and dance exercise classes. Wedding dance tuition.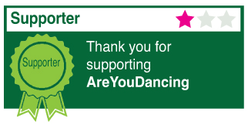 About Bosworth School of Dance
IDTA-registered teacher (LB, LR, LC, LS, LJ, AL) runs ballroom and latin courses for adult beginners and improvers, and gives private lessons in ballroom, latin and wedding dance, near Stratford-upon-Avon. She also offers one-off lessons for social occasions, e.g. birthday and anniversary parties.
Private lessons are usually held on Tuesday and Wednesday evenings, and some Saturday mornings. Lessons on other days, and at other venues, can sometimes be arranged.
In 2018, private lessons and the following courses will be held at the 3PM Hall in Preston-on-Stour - CV37 8NG - which has a car park at the side. Please contact me for more information, or to book a place of one of the courses, or to book a private lesson.
BEGINNERS BALLROOM & LATIN 6-WEEK COURSE:-
Tuesdays:- from 11th September to 16th October
7.30-9.00 p.m. - £56.00 per person

IMPROVERS BALLROOM & LATIN 6-WEEK COURSE:-
Wednesdays:- from 19th September to 24th October
7.00-8.30 pm - £56.00 per person
PRIVATE LESSONS - COST:-
Ballroom, Latin & Wedding Dance - £32.00 per one-hour lesson (for a couple or one person) - £17.00 for a half-hour lesson
£30.00 introductory lesson for a one-hour ballroom or latin dance lesson
Contact Name: Marilyn Bosworth
Dance Styles: American Smooth, Argentine Tango, Cha Cha Cha (Ballroom), Foxtrot, Jive (Ballroom), Modern Tango, Paso Doble, Quickstep, Rock n Roll, Rumba, Salsa, Samba, Popular Sequence, Viennese Waltz, Waltz
Roles: Dance Teacher, Regular Dance Classes, Wedding First Dance, Private Lessons
Events: Class
Main Area: Warwickshire
Website: https://www.sites.google.com/site/bosworthschoolofdance/
Forthcoming Events
Date
Event Name/Venue
Description/Dance Styles
Bosworth School of Dance
3PM Hall, Preston-on-Stour
Class
Improvers 6-week Ballroom and Latin Course
American Smooth, Cha Cha Cha (Ballroom), Foxtrot, Jive (Ballroom), Modern Tango, Old Time Dancing, Paso Doble, Quickstep, Rumba, Samba, Popular Sequence, Viennese Waltz, Waltz, Modern Sequence
Bosworth School of Dance
3PM Hall, Preston-on-Stour
Class
Improvers 6-week Ballroom and Latin Course
American Smooth, Cha Cha Cha (Ballroom), Foxtrot, Jive (Ballroom), Modern Tango, Old Time Dancing, Paso Doble, Quickstep, Rumba, Samba, Popular Sequence, Viennese Waltz, Waltz, Modern Sequence