Mirrors Dance
Professional, Qualified Dance Tuition by ITV's Lead Dancer, Trudi Clark (Fellow, Hons, IDTA)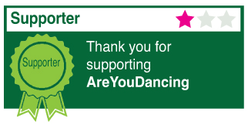 About Mirrors Dance
MIRRORS DANCE offers Professional dance training in studios around Hertfordshire & Bedforshire, offering: Ballroom, Latin, Argentine Tango, Salsa, Wedding, Show-dance, Teacher Training, Children's Classes, Formation Team...!
Learn how to dance at your own pace in a private lesson or join in one of our fun group dance classes. As well as weekly classes Mirrors Dance organises regular Coach Trips to other new & exciting venues to watch dance shows & practice social dancing. Mirrors Dance also holds Dinner Dances throughout the year, Practice Parties & Special Event Balls and Dance Weekends... because dancing is for socialising as well as learning!
Our Instructors have a wealth of experience in a broad range of dance specialisations and will ensure you learn in a fun and relaxed environment. We are devoted to making your dancing experience the best ever. Whatever your schedule or personal dancing goals, "dance a little, or dance a lot", Mirrors Dance is the place to have the most fun doing it!
Start dancing! :)
Contact Name: Trudi Clark
Dance Styles: American Smooth, Argentine Tango, Cha Cha Cha (Ballroom), Charleston, Foxtrot, Freestyle, Jive (Ballroom), Modern Tango, Paso Doble, Quickstep, Rock n Roll, Rumba, Salsa, Samba, Popular Sequence, Street/Hip-Hop, Viennese Waltz, Waltz, Modern Sequence
Roles: Event Organiser, Dance Teacher, Regular Dance Classes, Wedding First Dance, Private Lessons, Child Classes, Dance Performance, Dance Shoes
Main Area: Hertfordshire
Website: http://www.mirrorsdance.com