Dave's Dances
DJ "Mr Music" hosting your social afternoon and evening Ballroom, Latin American and Sequence dances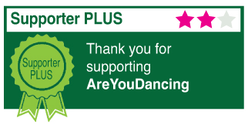 About Dave's Dances
DJ "Mr Music" playing the best tunes in Ballroom, Latin American and Sequence music in London, and the Home Counties. Social dance evenings and social afternoon dances for all ages and abilities: come and dance for fun or practice your steps.
Excellent recorded, quality dance music for dancers - I have been dancing for many years and know the right tempos and music to play for my audiences. Visit my website for all my Forthcoming Events. As a further development in our dance career I and my wife Diane, have qualified as Associate Ballroom and Latin American Dance Teachers with the Imperial Society of Teachers of Dance (ISTD) so you are in safe and professional hands for your ballroom needs.
See my photo and further details on my website. We look forward to meeting you!
David and Diane Whyte
Associates ISTD (B & LA)
Contact Name: David Whyte
Dance Styles: Cha Cha Cha (Ballroom), Foxtrot, Jive (Ballroom), Modern Tango, Paso Doble, Quickstep, Rumba, Samba, Popular Sequence, Viennese Waltz, Waltz
Roles: Event Organiser, Dance Teacher, DJ
Events: Dance
Main Area: Kent
Website: http://www.davesdances.co.uk
Forthcoming Events
Date
Event Name/Venue
Description/Dance Styles
BA CLubs Ballroom Dance Section
Yiewsley & West Drayton Community Centre
Dance
Evening Ballroom Dance
Cha Cha Cha (Ballroom), Foxtrot, Jive (Ballroom), Line Dance, Modern Tango, Paso Doble, Quickstep, Rumba, Samba, Popular Sequence, Viennese Waltz, Waltz
DJ "Mr Music" social dances
The Assembly Rooms, Coney Hall
Dance
Saturday night social ballroom, latin and sequence dances
Cha Cha Cha (Ballroom), Foxtrot, Jive (Ballroom), Modern Tango, Paso Doble, Quickstep, Rumba, Samba, Popular Sequence, Viennese Waltz, Waltz
Tea Dances run by LB Brent
Brent Civic Centre
Dance
Tea Dance consisting of the best Ballroom, Latin & sequence music, by dancers for dancers
Cha Cha Cha (Ballroom), Foxtrot, Jive (Ballroom), Modern Tango, Paso Doble, Quickstep, Rumba, Samba, Popular Sequence, Viennese Waltz, Waltz
Class and Social Tea Dance
Brentford Musical Museum
Dance
Saturday afternoon Class and Social Tea Dance
Cha Cha Cha (Ballroom), Foxtrot, Jive (Ballroom), Modern Tango, Quickstep, Rumba, Samba, Popular Sequence, Waltz
Dances run by the Sunday Dance Club
The Spirella Ballroom
Dance
Sunday Dance Club (SDC) open to everyone
Cha Cha Cha (Ballroom), Foxtrot, Jive (Ballroom), Modern Tango, Paso Doble, Quickstep, Rumba, Samba, Popular Sequence, Viennese Waltz, Waltz
Tea Dances run by LB Brent
Brent Civic Centre
Dance
Tea Dance consisting of the best Ballroom, Latin & sequence music, by dancers for dancers
Cha Cha Cha (Ballroom), Foxtrot, Jive (Ballroom), Modern Tango, Paso Doble, Quickstep, Rumba, Samba, Popular Sequence, Viennese Waltz, Waltz
Christmas Dance with DJ Mr Music
The Assembly Rooms, Coney Hall
Dance
Mr Music's Big Christmas Dance - fun, festive and some surprises!
Cha Cha Cha (Ballroom), Foxtrot, Jive (Ballroom), Modern Tango, Paso Doble, Quickstep, Rumba, Samba, Popular Sequence, Viennese Waltz, Waltz