Dance Events North West Ltd.
Popular sequence ballroom and latin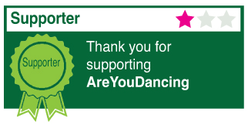 About Dance Events North West Ltd.
Dance Events North West host social dancing events in quality venues across the North West. David and Alison have over 50 years of combined experience in both the musical and dancing industries and both are now qualified dance teachers and UKA members.
Dancing is fun, keeps you fit and healthy and is a great way of making new friends. Our Social Dance programmes are carefully selected to provide a great night's dancing within a friendly, social and safe atmosphere. Singles and couples of all abilities are welcome.
Please check our events calendar for more details of our regular dances, theme nights, special events and weekend dance breaks. Sign up on the website to receive our weekly emails keeping you to update with all our dances.
Contact Name: Alison Park
Dance Styles: Cha Cha Cha (Ballroom), Foxtrot, Jive (Ballroom), Line Dance, Mambo, Paso Doble, Quickstep, Rock n Roll, Rumba, Salsa, Samba, Popular Sequence, Viennese Waltz, Waltz
Roles: Event Organiser, Dance Teacher, Regular Dance Classes, DJ
Events: Dance, Special
Main Area: Lancashire
Forthcoming Events
Date
Event Name/Venue
Description/Dance Styles
Dance Events NW, BIG Weekend Dance
The Longfield Suite, Prestwich
Dance
EVERY SUNDAY - Social and class, singles, couples and all abilities welcome.
Cha Cha Cha (Ballroom), Foxtrot, Quickstep, Rumba, Samba, Popular Sequence, Waltz
Dance Events NW, Sequence Social
The Poplar Club, Accrington
Dance
EVERY MONDAY Social & class, singles, couples and all abilities welcome.
Foxtrot, Quickstep, Popular Sequence, Waltz
Summer Ball at The Longfield Suite
The Longfield Suite, Prestwich
Special
A popular theme night, tickets recommended.
Cha Cha Cha (Ballroom), Foxtrot, Paso Doble, Quickstep, Rumba, Samba, Popular Sequence, Viennese Waltz, Waltz
Dance Events NW, Sequence Social
The Poplar Club, Accrington
Dance
EVERY MONDAY Social & class, singles, couples and all abilities welcome.
Foxtrot, Quickstep, Popular Sequence, Waltz
Dance Events NW, Mid-week Social
Saint Joseph's Chorley
Dance
EVERY WEDNESDAY Social and class, singles, couples and all abilities welcome.
Foxtrot, Quickstep, Popular Sequence, Waltz
Dance Events NW, BIG Weekend Dance
The Longfield Suite, Prestwich
Dance
EVERY SUNDAY - Social and class, singles, couples and all abilities welcome.
Cha Cha Cha (Ballroom), Foxtrot, Quickstep, Rumba, Samba, Popular Sequence, Waltz
Dance Events NW, Sequence Social
The Poplar Club, Accrington
Dance
EVERY MONDAY Social & class, singles, couples and all abilities welcome.
Foxtrot, Quickstep, Popular Sequence, Waltz
Dance Events NW, Mid-week Social
Saint Joseph's Chorley
Dance
EVERY WEDNESDAY Social and class, singles, couples and all abilities welcome.
Foxtrot, Quickstep, Popular Sequence, Waltz
Dance Events NW, BIG Weekend Dance
The Longfield Suite, Prestwich
Dance
EVERY SUNDAY - Social and class, singles, couples and all abilities welcome.
Cha Cha Cha (Ballroom), Foxtrot, Quickstep, Rumba, Samba, Popular Sequence, Waltz
Dance Events NW, Sequence Social
The Poplar Club, Accrington
Dance
EVERY MONDAY Social & class, singles, couples and all abilities welcome.
Foxtrot, Quickstep, Popular Sequence, Waltz