T L dancing
Ballroom & Latin promotions and teaching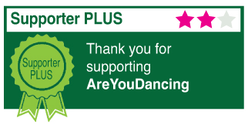 About T L dancing
Dance Tuesday afternoons Adddlestone Community Centre Garfield Road, KT15 2NJ. 1.45pm - 4.00pm Large sprung floor. Music from Cd's, standard Ballroom and Latin and a little sequence. See calendar or telephone for dates. Please BYO refreshements - tea/coffe available in the foyer. Car park adjacent to the centre - trains & buses a few minutes walk.
Private tuition for couples also practice classes weekly at Hanworth Village Hall, Park Road, Hanworth Middlesex. TW13 6PN. Good size sprung wood floor - free car park.
Hanworth - Mondays 50/50 Ballroom & Latin social practice - BYO partner- closed on all Bank holidays.
Hanworth - Fridays Int/advanced practice - Ballroom only BYO partner. Good size sprung wood floor - free Car Park.
Contact Name: Ms. Teddie Lovegrove
Dance Styles: Cha Cha Cha (Ballroom), Foxtrot, Jive (Ballroom), Modern Tango, Paso Doble, Quickstep, Rumba, Samba, Viennese Waltz, Waltz
Roles: Event Organiser, Dance Teacher, Private Lessons, DJ
Events: Practice Night
Main Area: Surrey
Forthcoming Events
Date
Event Name/Venue
Description/Dance Styles
Dance Ballroom & Latin
Hanworth Village Hall, Middlesex. TW13
Practice Night
50/50 Ballroom & Latin for social dancers
Cha Cha Cha (Ballroom), Foxtrot, Jive (Ballroom), Modern Tango, Paso Doble, Quickstep, Rumba, Samba, Viennese Waltz, Waltz
Ballroom only Int. & Advanced
Hanworth Village Hall, Middlesex. TW13
Practice Night
Ballroom practice (No Latin) for Intermediate to advanced dancers
Foxtrot, Modern Tango, Quickstep, Viennese Waltz, Waltz
Dance Ballroom & Latin
Hanworth Village Hall, Middlesex. TW13
Practice Night
50/50 Ballroom & Latin for social dancers
Cha Cha Cha (Ballroom), Foxtrot, Jive (Ballroom), Modern Tango, Paso Doble, Quickstep, Rumba, Samba, Viennese Waltz, Waltz
Ballroom only Int. & Advanced
Hanworth Village Hall, Middlesex. TW13
Practice Night
Ballroom practice (No Latin) for Intermediate to advanced dancers
Foxtrot, Modern Tango, Quickstep, Viennese Waltz, Waltz
Dance Ballroom & Latin
Hanworth Village Hall, Middlesex. TW13
Practice Night
50/50 Ballroom & Latin for social dancers
Cha Cha Cha (Ballroom), Foxtrot, Jive (Ballroom), Modern Tango, Paso Doble, Quickstep, Rumba, Samba, Viennese Waltz, Waltz
Ballroom only Int. & Advanced
Hanworth Village Hall, Middlesex. TW13
Practice Night
Ballroom practice (No Latin) for Intermediate to advanced dancers
Foxtrot, Modern Tango, Quickstep, Viennese Waltz, Waltz
Dance Ballroom & Latin
Hanworth Village Hall, Middlesex. TW13
Practice Night
50/50 Ballroom & Latin for social dancers
Cha Cha Cha (Ballroom), Foxtrot, Jive (Ballroom), Modern Tango, Paso Doble, Quickstep, Rumba, Samba, Viennese Waltz, Waltz
Ballroom only Int. & Advanced
Hanworth Village Hall, Middlesex. TW13
Practice Night
Ballroom practice (No Latin) for Intermediate to advanced dancers
Foxtrot, Modern Tango, Quickstep, Viennese Waltz, Waltz
Dance Ballroom & Latin
Hanworth Village Hall, Middlesex. TW13
Practice Night
50/50 Ballroom & Latin for social dancers
Cha Cha Cha (Ballroom), Foxtrot, Jive (Ballroom), Modern Tango, Paso Doble, Quickstep, Rumba, Samba, Viennese Waltz, Waltz
Ballroom only Int. & Advanced
Hanworth Village Hall, Middlesex. TW13
Practice Night
Ballroom practice (No Latin) for Intermediate to advanced dancers
Foxtrot, Modern Tango, Quickstep, Viennese Waltz, Waltz