Ballroom Blitz
50/50 Ballroom, Latin & popular sequence, phone or text 07811 011634 for details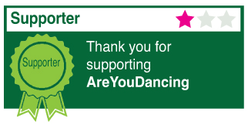 About Ballroom Blitz
Social dances in the East Midlands hosted by Jeremy & Jeannette.
For 2019 & 2020
Dances at Cotgrave Welfare Social Club usually 4th Saturday of the month.
Doors open 19:30, entry £6.00.
The "Last Waltz" will be at 22:30 and the format of the evening will be 50/50 Ballroom & Latin / popular sequence, along with some Argentine Tango. Samba, salsa and Paso Doble by request.
Fabulous maple floor, plenty of seating, licenced bar, free parking and late bus routes.
Contact Name: Jeremy Fearon and Jeannette Machin
Dance Styles: American Smooth, Argentine Tango, Cha Cha Cha (Ballroom), Foxtrot, Jive (Ballroom), Modern Tango, Old Time Dancing, Partner (with Disability), Paso Doble, Quickstep, Rumba, Samba, Popular Sequence, Viennese Waltz, Waltz, Modern Sequence
Roles: Event Organiser
Events: Dance
Main Area: Leicestershire
Forthcoming Events
Date
Event Name/Venue
Description/Dance Styles
Ballroom Blitz Dance At Cotgrave
The Concert Hall - Cotgrave Social Club
Dance
Saturday Social Dance
American Smooth, Argentine Tango, Cha Cha Cha (Ballroom), Foxtrot, Jive (Ballroom), Modern Tango, Old Time Dancing, Paso Doble, Quickstep, Rumba, Samba, Popular Sequence, Viennese Waltz, Waltz, Modern Sequence
Ballroom Blitz Social Dance
The Concert Hall - Cotgrave Social Club
Dance
Saturday Social Dance
American Smooth, Argentine Tango, Cha Cha Cha (Ballroom), Foxtrot, Jive (Ballroom), Modern Tango, Old Time Dancing, Paso Doble, Quickstep, Rumba, Samba, Popular Sequence, Viennese Waltz, Waltz, Modern Sequence
Ballroom Blitz Social Dance
The Concert Hall - Cotgrave Social Club
Dance
Saturday Social Dance
American Smooth, Argentine Tango, Cha Cha Cha (Ballroom), Foxtrot, Jive (Ballroom), Modern Tango, Old Time Dancing, Paso Doble, Quickstep, Rumba, Samba, Popular Sequence, Viennese Waltz, Waltz, Modern Sequence
Ballroom Blitz Twixmas Dance
The Concert Hall - Cotgrave Social Club
Dance
Saturday Social Dance
Cha Cha Cha (Ballroom), Foxtrot, Jive (Ballroom), Line Dance, Modern Tango, Paso Doble, Quickstep, Rumba, Samba, Popular Sequence, Viennese Waltz, Waltz, Modern Sequence
Ballroom Blitz Social Dance
The Concert Hall - Cotgrave Social Club
Dance
Ballroom Latin & Popular Sequence Dancing
Argentine Tango, Cha Cha Cha (Ballroom), Foxtrot, Jive (Ballroom), Line Dance, Modern Tango, Quickstep, Rumba, Samba, Popular Sequence, Viennese Waltz, Waltz, Modern Sequence
Ballroom Blitz Social Dance
The Concert Hall - Cotgrave Social Club
Dance
Ballroom Latin & Popular Sequence Dancing
Argentine Tango, Cha Cha Cha (Ballroom), Foxtrot, Jive (Ballroom), Line Dance, Modern Tango, Quickstep, Rumba, Samba, Popular Sequence, Viennese Waltz, Waltz, Modern Sequence
Ballroom Blitz Social Dance
The Concert Hall - Cotgrave Social Club
Dance
Ballroom Latin & Popular Sequence Dancing
Argentine Tango, Cha Cha Cha (Ballroom), Foxtrot, Jive (Ballroom), Line Dance, Modern Tango, Quickstep, Rumba, Samba, Popular Sequence, Viennese Waltz, Waltz, Modern Sequence
Ballroom Blitz Social Dance
The Concert Hall - Cotgrave Social Club
Dance
Ballroom Latin & Popular Sequence Dancing
Argentine Tango, Cha Cha Cha (Ballroom), Foxtrot, Jive (Ballroom), Line Dance, Modern Tango, Quickstep, Rumba, Samba, Popular Sequence, Viennese Waltz, Waltz, Modern Sequence
Ballroom Blitz Social Dance
The Concert Hall - Cotgrave Social Club
Dance
Ballroom Latin & Popular Sequence Dancing
Argentine Tango, Cha Cha Cha (Ballroom), Foxtrot, Jive (Ballroom), Line Dance, Modern Tango, Quickstep, Rumba, Samba, Popular Sequence, Viennese Waltz, Waltz, Modern Sequence
Ballroom Blitz Social Dance
The Concert Hall - Cotgrave Social Club
Dance
Ballroom Latin & Popular Sequence Dancing
Argentine Tango, Cha Cha Cha (Ballroom), Foxtrot, Jive (Ballroom), Line Dance, Modern Tango, Quickstep, Rumba, Samba, Popular Sequence, Viennese Waltz, Waltz, Modern Sequence