Canterbury Jive Class and Events
Jive and other swing dance classes and events in and around Canterbury and guest work elsewhere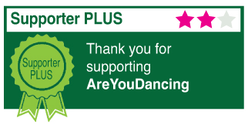 About Canterbury Jive Class and Events
BALBOA CLASSES & EVENING DANCE 5/1/19
Nikki Santilli of Hot Jazz Rag is teaching 2 Balboa workshops at the Anchor Inn, Wingham. Nikki has taught Balboa since 2012 with her Introduction to Balboa course proving to be very popular.
Timetable:
1.30PM Jazz Age Onestep
2.15PM Beginner's Balboa
4.15PM Beginner/intermediate Balboa
7.30PM Evening Dance
Prices:
£22 inc evening dance
£20 exc evening dance
£5 evening dance only
£1 off for students/NHS staff
Available from Nikki Santilli or Andrew Hall:
revboogie@hotmail.co.uk
nikki@hotjazzrag.com
CLASSES
Monday:
7PM
Bramleys
Orange St
Canterbury
Tuesday:
7.30PM
Canterbury Baptist Church Hall
St. George's Place
Canterbury
Wednesday:
7.30PM
Anchor Inn
Wingham
Classes: £5/£4 students/NHS staff
FOOD BANK DANCE
Weekly dance in aid of Canterbury Food Bank 8.30PM Tuesdays after weekly Tuesday Jive Class. Entry: 4 items of canned/dried food, drink cartons or essential toiletries.
Andrew Hall has taught Jive from 1995 plus Collegiate & Heel Shag, beginner's Charleston, Onestep, Partner Conga, Chalypso, & 1950s/60s fun dances: Hand Jive, Bunny Hop, Twist, etc.
As DJ Reverend Boogie he specialises in the 1930's-50's. Resident DJ at award winning London club Hula Boogie, runs events in Kent, guest DJ/teacher at clubs & weekenders. He teaches swing dances at the Royal Festival Hall on New Year's Eves & jive at the Twinwood Festival.
revboogie@hotmail.co.uk
Text 07540080224
Contact Name: Andrew Hall
Dance Styles: 1940s Jive, Balboa, Charleston, Collegiate Shag, East Coast Swing, Rock n Roll, Strolls
Roles: Event Organiser, Dance Teacher, Regular Dance Classes, Private Lessons, DJ
Events: Class, Dance
Main Area: Kent
Forthcoming Events
Date
Event Name/Venue
Description/Dance Styles
Wingham Jitterbug Jive Class
The Anchor Inn
Class
Easy drop-in classes in 1940's/50's style Jive.
1940s Jive, Rock n Roll
Bramleys Swing Dance Classes
Bramleys Cocktail Bar
Class
Weekly swing/vintage dance classes, different each month
1940s Jive, Charleston, Collegiate Shag, Rock n Roll, Strolls
Canterbury Jive Class
Canterbury Baptist Church Hall
Class
Drop-in 1940's/50's Jive Class
1940s Jive, Rock n Roll
Food Bank Dance
Canterbury Baptist Church Hall
Dance
Swing/R'N'R dance in aid of the Canterbury Food Bank
1940s Jive, Balboa, Boogie Woogie, Charleston, Collegiate Shag, East Coast Swing, Jazz Steps, Lindy Hop, Rock n Roll, West Coast Swing, Strolls
Wingham Jitterbug Jive Class
The Anchor Inn
Class
Easy drop-in classes in 1940's/50's style Jive.
1940s Jive, Rock n Roll
Bramleys Swing Dance Classes
Bramleys Cocktail Bar
Class
Weekly swing/vintage dance classes, different each month
1940s Jive, Charleston, Collegiate Shag, Rock n Roll, Strolls
Canterbury Jive Class
Canterbury Baptist Church Hall
Class
Drop-in 1940's/50's Jive Class
1940s Jive, Rock n Roll
Food Bank Dance
Canterbury Baptist Church Hall
Dance
Swing/R'N'R dance in aid of the Canterbury Food Bank
1940s Jive, Balboa, Boogie Woogie, Charleston, Collegiate Shag, East Coast Swing, Jazz Steps, Lindy Hop, Rock n Roll, West Coast Swing, Strolls
Wingham Jitterbug Jive Class
The Anchor Inn
Class
Easy drop-in classes in 1940's/50's style Jive.
1940s Jive, Rock n Roll
Bramleys Swing Dance Classes
Bramleys Cocktail Bar
Class
Weekly swing/vintage dance classes, different each month
1940s Jive, Charleston, Collegiate Shag, Rock n Roll, Strolls