Canterbury Jive
Jive and other swing dance classes and events in and around Canterbury and guest work elsewhere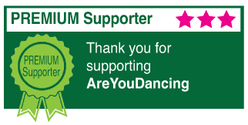 About Canterbury Jive
DANCES:
CHARLTON PARK SWING SESSION 18/8/19
Charlton Park,
Bishopsbourne,
Kent.
2.30pm dance class followed by mix of 1920s-40s dance music. Refreshments available.
Inc class-£8/£7 reduced
Dance only-£6/£5
SHAKE, BATTLE & BOWL
7pm 30/8/19
Play Islands,
3 Simmonds Rd,,
Canterbury,
CT1 3RA.
- Swing dance class, bowling, mini-golf & laser tag!
- A great mix of 1940s/50s floor fillers with DJ Reverend Boogie & guest DJ Miss Aloha.
-- £3 entry (inc soft drink) & optional activities: 7.15pm dance class £4/£3, bowling, lasertag & mini-golf £4 per person per game.
CLASSES:
MON:7PM
Bramleys
Orange St
Canterbury
(July: 1940's/50's style jive)
TUES:7.30PM
Canterbury Baptist Church Hall
St. George's Place
Canterbury
(1940's/50's style jive)
Followed by dance in aid of Canterbury Food Bank, entry: 4 items of canned/dried food, drink cartons or toiletries.
WED:7.30PM (from 21/8/19)
Glass House
22 High St
Ashford
(1940's/50's style jive)
THURS:7PM
Aylesham Community Project
Ackholt Rd
Aylesham
(1940's/50's style jive)
Andrew Hall (DJ Reverend Boogie) was resident DJ at award winning club Hula Boogie, runs events in Kent, guest DJ/teacher at clubs & weekenders. Teaches various vintage dances at the Royal Festival Hall on NYE & jive at the Twinwood Festival. Classes include 1940's/50's style Jive, Collegiate/Heel Shag, beginner's Charleston, Onestep, Partner Conga, Chalypso etc.
revboogie@hotmail.co.uk
Text 07540080224
Contact Name: Andrew Hall
Dance Styles: 1940s Jive, Balboa, Charleston, Collegiate Shag, East Coast Swing, Rock n Roll, Strolls
Roles: Event Organiser, Dance Teacher, Regular Dance Classes, Private Lessons, DJ
Events: Class, Dance
Main Area: Kent
Forthcoming Events
Date
Event Name/Venue
Description/Dance Styles
Charlton Park Swing Session
Charlton Park
Dance
Monthly afternoon swing dance in a stunning Regency ballroom in a really beautiful estate
1940s Jive, Balboa, Boogie Woogie, Charleston, Collegiate Shag, East Coast Swing, Jazz Steps, Lindy Hop, Rock n Roll, West Coast Swing
Bramleys Swing Dance Classes
Bramleys Cocktail Bar
Class
Weekly swing/vintage dance classes, different each month
1940s Jive, Charleston, Collegiate Shag, Rock n Roll, Strolls
Glass House Jive Night
The Glass House
Class
Easy drop-in classes in 1940's/50's style Jive.
1940s Jive, Rock n Roll
Aylesham Jive Class
Aylesham Community Project
Class
Beginner's 1940's/50's Style Jive Course
1940s Jive, Rock n Roll
Glass House Jive Night
The Glass House
Class
Easy drop-in classes in 1940's/50's style Jive.
1940s Jive, Rock n Roll
Aylesham Jive Class
Aylesham Community Project
Class
Beginner's 1940's/50's Style Jive Course
1940s Jive, Rock n Roll
Shake, Battle & Bowl
Play Islands
Dance
Dancing, dance classes, bowling, laser tag, free parking and food available all night!
1940s Jive, Balboa, Charleston, Collegiate Shag, East Coast Swing, Lindy Hop, Rock n Roll
Glass House Jive Night
The Glass House
Class
Easy drop-in classes in 1940's/50's style Jive.
1940s Jive, Rock n Roll
Aylesham Jive Class Graduation Danc
Aylesham Community Project
Dance
End of term dance for the Aylesham Jive Class
1940s Jive, Balboa, Charleston, Collegiate Shag, East Coast Swing, Lindy Hop, Rock n Roll, West Coast Swing, Strolls
Glass House Jive Night
The Glass House
Class
Easy drop-in classes in 1940's/50's style Jive.
1940s Jive, Rock n Roll