Canterbury Jive
Jive and other swing dance classes and events in and around Canterbury and guest work elsewhere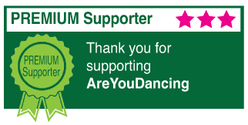 About Canterbury Jive
DANCES:
THE DREAMROLLERS FEATURING THE DULCETTES
06/12/19
Chichester Memorial Hall
70 Sandgate High St
Sandgate
The Dreamrollers featuring The Dulcettes, a fabulous brand new seven piece swing & early r'n'b band with support from DJs Reverend Boogie, Andy Roadoiler & Tiger Terry.
£10 early bird/£12 after 20/10/19, details: revboogie@hotmail.co.uk
CHARLTON PARK SWING SESSION 08/12/19 2.30pm
Charlton Park
Bishopsbourne
Dance class followed by mix of 1920s-40s dance music.
Inc class-£7/£6 reduced
Dance only-£6/£5
CLASSES:
MON:7PM
Bramleys
Orange St
Canterbury
(October: 1920's dances inc solo & partner Charleston)
£5/£4 reduced
TUES:7.30PM
Canterbury Baptist Church Hall
St. George's Place
Canterbury
(1940's/50's style jive)
£5/£4 reduced
Followed by dance in aid of Canterbury Food Bank, entry: canned/dried food, drink cartons or toiletries.
WED:7.30PM
Glass House
22 High St
Ashford
(1940's/50's jive)
£6/£5 reduced
THURS:7PM
Aylesham Community Project
Ackholt Rd
Aylesham
(1940's/50's jive)
£6/£5 reduced
Andrew Hall (DJ Reverend Boogie) was resident DJ at award winning club Hula Boogie, runs events in Kent, guest DJ/teacher at clubs & weekenders. Teaches various vintage dances at the Royal Festival Hall on NYE & jive at the Twinwood Festival. Classes include 1940's/50's style Jive, Collegiate/Heel Shag, beginner's Charleston, Onestep, Partner Conga, Chalypso etc.
revboogie@hotmail.co.uk
Text 07540080224
Contact Name: Andrew Hall
Dance Styles: 1940s Jive, Balboa, Charleston, Collegiate Shag, East Coast Swing, Rock n Roll, Strolls
Roles: Event Organiser, Dance Teacher, Regular Dance Classes, Private Lessons, DJ
Events: Class, Dance
Main Area: Kent
Forthcoming Events
Date
Event Name/Venue
Description/Dance Styles
Charleston at Bramleys
Bramleys Cocktail Bar
Class
Weekly swing/vintage dance classes, different each month
1940s Jive, Charleston, Collegiate Shag, Rock n Roll, Strolls
Canterbury Jive Class
Canterbury Baptist Church Hall
Class
Drop-in 1940's/50's Jive Class
1940s Jive, Rock n Roll
Food Bank Dance
Canterbury Baptist Church Hall
Dance
Swing/R'N'R dance in aid of the Canterbury Food Bank
1940s Jive, Balboa, Boogie Woogie, Charleston, Collegiate Shag, East Coast Swing, Jazz Steps, Lindy Hop, Rock n Roll, West Coast Swing, Strolls
Glass House Jive Night
The Glass House
Class
Easy drop-in classes in 1940's/50's style Jive.
1940s Jive, Rock n Roll
Aylesham Jive Class
Aylesham Community Project
Class
Beginner's 1940's/50's Style Jive Course
1940s Jive, Rock n Roll
Charleston at Bramleys
Bramleys Cocktail Bar
Class
Weekly swing/vintage dance classes, different each month
1940s Jive, Charleston, Collegiate Shag, Rock n Roll, Strolls
Canterbury Jive Class
Canterbury Baptist Church Hall
Class
Drop-in 1940's/50's Jive Class
1940s Jive, Rock n Roll
Food Bank Dance
Canterbury Baptist Church Hall
Dance
Swing/R'N'R dance in aid of the Canterbury Food Bank
1940s Jive, Balboa, Boogie Woogie, Charleston, Collegiate Shag, East Coast Swing, Jazz Steps, Lindy Hop, Rock n Roll, West Coast Swing, Strolls
Glass House Jive Night
The Glass House
Class
Easy drop-in classes in 1940's/50's style Jive.
1940s Jive, Rock n Roll
Aylesham Jive Class
Aylesham Community Project
Class
Beginner's 1940's/50's Style Jive Course
1940s Jive, Rock n Roll