Canterbury Jive Class and Events
Jive and other swing dance classes and events in and around Canterbury and guest work elsewhere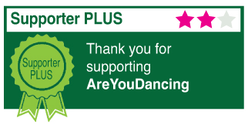 About Canterbury Jive Class and Events
Swing dance classes and events in & around Canterbury.
WEEKLY DANCE
Shake, Battle & Bowl:
A weekly Thursday evening of 1950's music & dance, laser tag & bowling. Food available all night. £3 basic entry (inc free soft drink) plus additional optional reduced 7.15 PM swing dance class (£4/£3 students instead of £5/£4) & reduced rate laser tag & bowling (£4 per game per person instead of £5.50).
Play Islands,
3 Simmonds Rd
Canterbury.
CLASSES
Monday:
7PM
Bramleys
Orange St
Canterbury
(Different monthly swing dance, Closed through May, Jive through June)
Tuesday:
7.30PM
Canterbury Baptist Church Hall
St. George's Place
Canterbury
(Jive)
Wednesday:
7.30PM
Anchor Inn
High St
Wingham
Kent
(Jive)
All classes: £5/£4 students
Occasional Anchor Inn weekend workshops
Andrew Hall has taught Jive from 1995 & also teaches Collegiate & Heel Shag, beginner's Charleston, Jazz Age Onestep, Partner Conga, Chalypso, & novelty dances from the 1950s & 60s: Hand Jive, Bunny Hop, Twist, etc.
As DJ Reverend Boogie he specialises in the 1930's to 50's. Resident DJ at award winning London night club Hula Boogie since 2003. Runs events in East Kent, guest DJ/dance teacher at clubs & weekenders in Britain/Europe. He taught various swing dances at the Royal Festival Hall this New Year's Eve & will be teaching 1940's/50's style Jive at 2018's Twinwood Festival.
Details:
revboogie@hotmail.co.uk
Text 07540080224
Contact Name: Andrew Hall
Dance Styles: 1940s Jive, Balboa, Charleston, Collegiate Shag, East Coast Swing, Rock n Roll, Strolls
Roles: Event Organiser, Dance Teacher, Regular Dance Classes, Private Lessons, DJ
Events: Class, Special
Main Area: Kent
Forthcoming Events
Date
Event Name/Venue
Description/Dance Styles
Canterbury Jive Class
Canterbury Baptist Church Hall
Class
Drop-in 1940's/50's Jive Class
1940s Jive, Rock n Roll
Wingham Jitterbug Jive Class
The Anchor Inn
Class
Easy drop-in classes in 1940's/50's style Jive.
1940s Jive, Rock n Roll
Shake, Battle & Bowl
Play Islands
Special
Dancing, dance classes, bowling, laser tag, free parking and food available all night!
1940s Jive, Balboa, Charleston, Collegiate Shag, East Coast Swing, Lindy Hop, Rock n Roll
Canterbury Jive Class
Canterbury Baptist Church Hall
Class
Drop-in 1940's/50's Jive Class
1940s Jive, Rock n Roll
Wingham Jitterbug Jive Class
The Anchor Inn
Class
Easy drop-in classes in 1940's/50's style Jive.
1940s Jive, Rock n Roll
Shake, Battle & Bowl
Play Islands
Special
Dancing, dance classes, bowling, laser tag, free parking and food available all night!
1940s Jive, Balboa, Charleston, Collegiate Shag, East Coast Swing, Lindy Hop, Rock n Roll
Bramleys Swing Dance Classes
Bramleys Cocktail Bar
Class
Weekly swing/vintage dance classes, different each month
1940s Jive, Charleston, Collegiate Shag, Rock n Roll, Strolls
Canterbury Jive Class
Canterbury Baptist Church Hall
Class
Drop-in 1940's/50's Jive Class
1940s Jive, Rock n Roll
Wingham Jitterbug Jive Class
The Anchor Inn
Class
Easy drop-in classes in 1940's/50's style Jive.
1940s Jive, Rock n Roll
Shake, Battle & Bowl
Play Islands
Special
Dancing, dance classes, bowling, laser tag, free parking and food available all night!
1940s Jive, Balboa, Charleston, Collegiate Shag, East Coast Swing, Lindy Hop, Rock n Roll