Canterbury Jive Class and Events
Jive and other swing dance classes and events in and around Canterbury and guest work elsewhere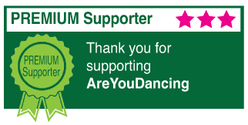 About Canterbury Jive Class and Events
DANCES:
CHARLTON PARK SWING SESSION 28/4/19
Swing dancing at Charlton Park, Bishopsbourne, CT4 5JA, a manor house with original 1817 ballroom set in beautiful parkland in the heart of the Kent countryside.
Starting at 2.30pm with dance class & followed by a mix of dance music from the 1920s-1940s with DJ Reverend Boogie.
Refreshments available.
Inc class-£8/£7 reduced
Dance only-£6/£5 reduced
SHAKE, BATTLE & BOWL 17/5/19
7pm, an evening of 1940's/50's music + optional dance class, bowling, lasertag, mini-golf & cinema at Play Islands, 3 Simmonds Rd, Wincheap, Canterbury, CT1 3RA. £3 entry inc soft drink, optional activities extra
CLASSES:
MON:
7PM
Bramleys
Orange St
Canterbury
(Collegiate Shag: April)
TUES:
7.30PM
Canterbury Baptist Church Hall
St. George's Place
Canterbury
(1940's/50's style jive)
FOOD BANK DANCE
Dance in aid of Canterbury Food Bank 8.30PM Tuesdays after weekly Jive Class. Entry: 4 items of canned/dried food, drink cartons or essential toiletries.
Andrew Hall has taught Jive from 1995 plus now Collegiate & Heel Shag, beginner's Charleston, Onestep, Partner Conga, Chalypso, & 1950s/60s fun dances.
As DJ Reverend Boogie he specialises in the 1930's-50's. Resident DJ at award winning London club Hula Boogie, runs events in Kent, guest DJ/teacher at clubs & weekenders. He teaches swing dances at the Royal Festival Hall on NYE & jive at the Twinwood Festival.
revboogie@hotmail.co.uk
Text 07540080224
Contact Name: Andrew Hall
Dance Styles: 1940s Jive, Balboa, Charleston, Collegiate Shag, East Coast Swing, Rock n Roll, Strolls
Roles: Event Organiser, Dance Teacher, Regular Dance Classes, Private Lessons, DJ
Events: Class, Dance
Main Area: Kent
Forthcoming Events
Date
Event Name/Venue
Description/Dance Styles
Charlton Park Swing Session
Charlton Park
Dance
Monthly afternoon swing dance in a stunning Regency ballroom in a really beautiful estate
1940s Jive, Balboa, Boogie Woogie, Charleston, Collegiate Shag, East Coast Swing, Jazz Steps, Lindy Hop, Rock n Roll, West Coast Swing
Bramleys Swing Dance Classes
Bramleys Cocktail Bar
Class
Weekly swing dance classes, Collegiate Shag through April
1940s Jive, Charleston, Collegiate Shag, Rock n Roll, Strolls
Canterbury Jive Class
Canterbury Baptist Church Hall
Class
Drop-in 1940's/50's Jive Class
1940s Jive, Rock n Roll
Food Bank Dance
Canterbury Baptist Church Hall
Dance
Swing/R'N'R dance in aid of the Canterbury Food Bank
1940s Jive, Balboa, Boogie Woogie, Charleston, Collegiate Shag, East Coast Swing, Jazz Steps, Lindy Hop, Rock n Roll, West Coast Swing, Strolls
Shake, Battle & Bowl
Play Islands
Dance
Dancing, dance classes, bowling, laser tag, free parking and food available all night!
1940s Jive, Balboa, Charleston, Collegiate Shag, East Coast Swing, Lindy Hop, Rock n Roll