Canterbury Jive Class and Events
Jive and other swing dance classes and events in and around Canterbury and guest work elsewhere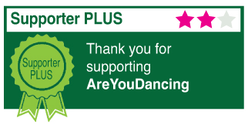 About Canterbury Jive Class and Events
CANTERBURY FOOD BANK DANCE
Weekly Swing/R'n'R dance in aid of the Canterbury Food Bank 8.30PM after the Tuesday night jive classes from 2nd October at the Canterbury Baptist Church Hall, St.George's Place, Canterbury.
Entry: 4 items of canned/dried food, drink cartons or essential toiletries.
MONTHLY DANCE
Charlton Park Swing Sessions
14/10/18
Beginner's dance class: 2.30 PM then music from 1920s-40s
£8 inc dance class, £6 from 3.30 PM
Vintage glamour appreciated but ballroom is Regency period so no stilettos or shoes that may damage floor
Charlton Park,
Bishopsbourne,
Near Canterbury
CLASSES
Monday:
7PM
Bramleys
Orange St
Canterbury
(Jive through October & November)
Tuesday:
7.30PM
Canterbury Baptist Church Hall
St. George's Place
Canterbury
(Jive)
Wednesday:
7.30PM
Anchor Inn
Wingham
(Jive)
Classes: £5/£4 students/NHS staff
Andrew Hall has taught Jive from 1995 plus Collegiate & Heel Shag, beginner's Charleston, Onestep, Partner Conga, Chalypso, & 1950s/60s novelty dances: Hand Jive, Bunny Hop, Twist, etc.
As DJ Reverend Boogie he specialises in the 1930's-50's. Resident DJ at award winning London club Hula Boogie from 2003, runs events in Kent, guest DJ/teacher at clubs & weekenders. He taught swing dances at the Royal Festival Hall this New Year's Eve & is teaching Jive at 2018's Twinwood Festival.
Details:
revboogie@hotmail.co.uk
Text 07540080224
Contact Name: Andrew Hall
Dance Styles: 1940s Jive, Balboa, Charleston, Collegiate Shag, East Coast Swing, Rock n Roll, Strolls
Roles: Event Organiser, Dance Teacher, Regular Dance Classes, Private Lessons, DJ
Events: Dance, Class
Main Area: Kent
Forthcoming Events
Date
Event Name/Venue
Description/Dance Styles
Bramleys Swing Dance Classes
Canterbury Baptist Church Hall
Class
Weekly swing/vintage dance classes, different each month
1940s Jive, Charleston, Collegiate Shag, Rock n Roll, Strolls
Food Bank Dance
Canterbury Baptist Church Hall
Dance
Swing/R'N'R dance in aid of the Canterbury Food Bank
1940s Jive, Balboa, Boogie Woogie, Charleston, Collegiate Shag, East Coast Swing, Jazz Steps, Lindy Hop, Rock n Roll, West Coast Swing, Strolls
Canterbury Jive Class
Canterbury Baptist Church Hall
Class
Drop-in 1940's/50's Jive Class
1940s Jive, Rock n Roll
Wingham Jitterbug Jive Class
The Anchor Inn
Class
Easy drop-in classes in 1940's/50's style Jive.
1940s Jive, Rock n Roll
Shake, Battle & Bowl
Play Islands
Dance
Dancing, dance classes, bowling, laser tag, free parking and food available all night!
1940s Jive, Balboa, Charleston, Collegiate Shag, East Coast Swing, Lindy Hop, Rock n Roll
Bramleys Swing Dance Classes
Canterbury Baptist Church Hall
Class
Weekly swing/vintage dance classes, different each month
1940s Jive, Charleston, Collegiate Shag, Rock n Roll, Strolls
Food Bank Dance
Canterbury Baptist Church Hall
Dance
Swing/R'N'R dance in aid of the Canterbury Food Bank
1940s Jive, Balboa, Boogie Woogie, Charleston, Collegiate Shag, East Coast Swing, Jazz Steps, Lindy Hop, Rock n Roll, West Coast Swing, Strolls
Canterbury Jive Class
Canterbury Baptist Church Hall
Class
Drop-in 1940's/50's Jive Class
1940s Jive, Rock n Roll
Wingham Jitterbug Jive Class
The Anchor Inn
Class
Easy drop-in classes in 1940's/50's style Jive.
1940s Jive, Rock n Roll
Bramleys Swing Dance Classes
Canterbury Baptist Church Hall
Class
Weekly swing/vintage dance classes, different each month
1940s Jive, Charleston, Collegiate Shag, Rock n Roll, Strolls