Canterbury Jive
Jive and other swing dance classes and events in and around Canterbury and guest work elsewhere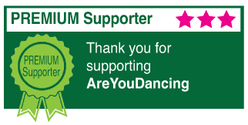 About Canterbury Jive
DANCES:
CHARLTON PARK SWING SESSIONS
2.30PM
Charlton Park
Bishopsbourne
(2020 dates soon)
CLASSES:
TUES:7.30PM
Canterbury Baptist Church Hall
St. George's Place
Canterbury
(1940's/50's style jive)
£5/£4 reduced
Followed At 8.30PM by practice session in aid of Canterbury Food Bank, entry: canned/dried food, drink cartons or toiletries.
WED:7.30PM
Glass House
22 High St
Ashford
(1940's/50's jive)
£6/£5 reduced
Andrew Hall (DJ Reverend Boogie) was resident DJ at award winning club Hula Boogie, runs events in Kent, guest DJ/teacher at clubs & weekenders. Teaches various vintage dances at the Royal Festival Hall on NYE & jive at the Twinwood Festival. Classes include 1940's/50's style Jive, Collegiate/Heel Shag, beginner's Charleston, Onestep, Partner Conga, Chalypso etc.
revboogie@hotmail.co.uk
Text 07540080224
Contact Name: Andrew Hall
Dance Styles: 1940s Jive, Balboa, Charleston, Collegiate Shag, East Coast Swing, Rock n Roll, Strolls
Roles: Event Organiser, Dance Teacher, Regular Dance Classes, Private Lessons, DJ
Events: Class, Practice Night
Main Area: Kent
Forthcoming Events
Date
Event Name/Venue
Description/Dance Styles
Canterbury Jive Class
Canterbury Baptist Church Hall
Class
Drop-in 1940's/50's Jive Class
1940s Jive, Rock n Roll
Canterbury Charity Practice Night
Canterbury Baptist Church Hall
Practice Night
Swing dance practice time in aid of the Canterbury Food Bank
1940s Jive, Balboa, Boogie Woogie, Charleston, Collegiate Shag, East Coast Swing, Jazz Steps, Lindy Hop, Rock n Roll, West Coast Swing
Ashford Jive Class
The Glass House
Class
1940's/50's style jive class
1940s Jive, Rock n Roll