The Wedding Waltz Company
Provide event DJ and music. Coaching for couples Waltz dance on their wedding day.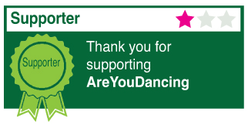 About The Wedding Waltz Company
Description
Learn the skill and have the confidence to enjoy doing a lovely Waltz routine on your special day.
We offer one to one training for couples to do a Waltz dance for their wedding day. We can help you with your choice of music and coach you on basic dance skills so that on your special day the panic has gone and your wedding dance is an enjoyable experience for you, your partner and your guests .
We also can supply music and MC/DJ facilities for Ballroom dance events, Tea Dances etc.
e-mail theweddingwaltzcompany@gmail.com
Forthcoming Events
Date
Event Name/Venue
Description/Dance Styles
Troon Town Hall
Troon Concert Hall
Dance
Tea Dance
Cha Cha Cha (Ballroom), Foxtrot, Modern Tango, Quickstep, Rumba, Samba, Viennese Waltz, Waltz
Cambusnethan Social Club
Cambusnethan Social Club
Dance
Evening social dance
Cha Cha Cha (Ballroom), Foxtrot, Jive (Ballroom), Modern Tango, Quickstep, Rumba, Samba, Popular Sequence, Waltz
Troon Town Hall
Troon Concert Hall
Dance
Tea Dance
Cha Cha Cha (Ballroom), Foxtrot, Modern Tango, Quickstep, Rumba, Samba, Viennese Waltz, Waltz
Troon Town Hall
Troon Concert Hall
Dance
Tea Dance
Cha Cha Cha (Ballroom), Foxtrot, Modern Tango, Quickstep, Rumba, Samba, Viennese Waltz, Waltz
Cambusnethan Social Club
Cambusnethan Social Club
Dance
Evening social dance
Cha Cha Cha (Ballroom), Foxtrot, Jive (Ballroom), Modern Tango, Quickstep, Rumba, Samba, Popular Sequence, Waltz
Cambusnethan Social Club
Cambusnethan Social Club
Dance
Evening social dance
Cha Cha Cha (Ballroom), Foxtrot, Jive (Ballroom), Modern Tango, Quickstep, Rumba, Samba, Popular Sequence, Waltz
Saturday Night dance to DJ Donald
Larkhall Community Centre
Dance
Saturday Night dance to DJ Donald
Cha Cha Cha (Ballroom), Foxtrot, Quickstep, Rumba, Popular Sequence, Waltz
Cambusnethan Social Club
Cambusnethan Social Club
Dance
Evening social dance
Cha Cha Cha (Ballroom), Foxtrot, Jive (Ballroom), Modern Tango, Quickstep, Rumba, Samba, Popular Sequence, Waltz
St Bernadette's Social Dance
St Bernadette's Church Hall
Dance
Social dancing - Sequence, Ballroom, Latin, Line dances
Cha Cha Cha (Ballroom), Foxtrot, Jive (Ballroom), Modern Tango, Quickstep, Rumba, Popular Sequence, Waltz
Cambusnethan Social Club
Cambusnethan Social Club
Dance
Evening social dance
Cha Cha Cha (Ballroom), Foxtrot, Jive (Ballroom), Modern Tango, Quickstep, Rumba, Samba, Popular Sequence, Waltz