Eastbourne Swing Jive
Lindy Hop dance class, for beginners and improvers/Intermediate,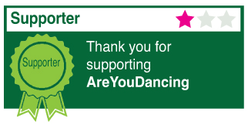 About Eastbourne Swing Jive
We teach the original Swing Jive known as the Lindy Hop as danced at the Savoy Ballroom Harlem New York in the 1930/40 swing era.
OUR 2019 BEGINNERS COURSES COMMENCE ON THE FOLLOWING DATES:
7th January, April 1st ( break in August), September 2nd,
Beginners Class starts at 8 pm to 8:45 pm and
Intermediate/Adv class from 9: pm to 9.45pm, free style practice till 10pm we also offer a beginners consolidation practice class at 9pm.
It's best to join a course from the start if you are new to Lindy Hop as the classes are progressive however, you are very welcome to join a course whenever you can but it's worth keeping in mind that the later you start the more challenging it may be to catch up.
We have a short break for refreshments at 8:45pm (free refreshments).
Our September beginners course will be in three stages as follows:
4 Week Basic Jive simple footwork and basic moves to get you out dancing:
Want to Learn more?
4 Weeks Beginners Lindy Charleston (to add on to your basic jive)
Want to go further?
8 Weeks Beginners Lindy hop (the orginal swing jive from Harlem New York:
We are introduced a Colligate Shag, Class for beginners and improvers, one evening in each course, date to be set.
Venue: is Community Wise, Ocklynge Road, Old Town, Eastbourne BN21 1PY.
Cost for the evening is £7 ( £4 for students with id) this covers both classes.
For more info contact Alan on 07875 60 73 22 or email: Facebook
Contact Name: Alan Humphris
Dance Styles: Charleston, East Coast Swing, Lindy Hop
Roles: Dance Teacher, Regular Dance Classes, DJ
Events: Dance, Class
Main Area: East Sussex
Forthcoming Events
Date
Event Name/Venue
Description/Dance Styles
Eastbourne Swing Jive
Community Wise
Class
Lindy Hop dance class, for beginners and improvers/Intermediate, and colligate Shag
Collegiate Shag, East Coast Swing, Lindy Hop
Eastbourne Swing Jive
Community Wise
Class
Lindy Hop dance class, for beginners and improvers/Intermediate, and colligate Shag
Collegiate Shag, East Coast Swing, Lindy Hop
Beachy Head Boogie
Crown & Anchor pub
Dance
Swing Dance Night
Balboa, Charleston, Lindy Hop
Eastbourne Swing Jive
Community Wise
Class
Lindy Hop dance class, for beginners and improvers/Intermediate, and colligate Shag
Collegiate Shag, East Coast Swing, Lindy Hop
Eastbourne Swing Jive
Community Wise
Class
Lindy Hop dance class, for beginners and improvers/Intermediate, and colligate Shag
Collegiate Shag, East Coast Swing, Lindy Hop
Eastbourne Swing Jive
Community Wise
Class
Lindy Hop dance class, for beginners and improvers/Intermediate, and colligate Shag
Collegiate Shag, East Coast Swing, Lindy Hop
Eastbourne Swing Jive
Community Wise
Class
Lindy Hop dance class, for beginners and improvers/Intermediate, and colligate Shag
Collegiate Shag, East Coast Swing, Lindy Hop
Beachy Head Boogie
Crown & Anchor pub
Dance
Swing jive night
Balboa, Charleston, Lindy Hop
Eastbourne Swing Jive
Community Wise
Class
Lindy Hop dance class, for beginners and improvers/Intermediate, and colligate Shag
Collegiate Shag, East Coast Swing, Lindy Hop
Eastbourne Swing Jive
Community Wise
Class
Lindy Hop dance class, for beginners and improvers/Intermediate, and colligate Shag
Collegiate Shag, East Coast Swing, Lindy Hop