Lesley's Social Dancing
Ballroom, Latin & Sequence Classes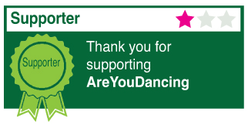 About Lesley's Social Dancing
I teach adults Ballroom and Ballroom Latin to enable pupils to dance socially and to most of all, have fun.
I hold classes on Monday evenings at Hemingford Pavilion, Hemingford Grey and Thursday evenings at Fen Drayton Village Hall, Fen Drayton, Cambridgeshire. Both evenings have beginners and Improvers classes, and following a very successful summer session I now hold Beginners Sequence Lessons at Fen Drayton 8.30 to 9.00pm.
Practice classes are held every summer to keep up those routines and there will be an extra Practice Session on Thursday 19th October 7.30 to 9.30, nonstop Ballroom and Latin with a sparkle of Sequence! This session will be complimented by great music by Steps in Time of FNIDN, see the monthly dances they hold.
Please contact me for further details.
Lesley.
Contact Name: Lesley Collier
Dance Styles: Cha Cha Cha (Ballroom), Foxtrot, Jive (Ballroom), Modern Tango, Quickstep, Rumba, Samba, Waltz
Roles: Event Organiser, Dance Teacher, Regular Dance Classes, Private Lessons
Events: Class
Main Area: Cambridgeshire
Forthcoming Events
Date
Event Name/Venue
Description/Dance Styles
15 Jan 2018
Class
Ballroom and Latin
Hemingford Pavilion
Beginners and Improvers
Cha Cha Cha (Ballroom), Foxtrot, Jive (Ballroom), Modern Tango, Quickstep, Rumba, Samba, Waltz
18 Jan 2018
Class
New Beginners and Improvers Classes
Fen Drayton Village Hall
Ballroom and Latin
Cha Cha Cha (Ballroom), Foxtrot, Jive (Ballroom), Modern Tango, Quickstep, Rumba, Samba, Waltz
22 Jan 2018
Class
Ballroom and Latin
Hemingford Pavilion
Beginners and Improvers
Cha Cha Cha (Ballroom), Foxtrot, Jive (Ballroom), Modern Tango, Quickstep, Rumba, Samba, Waltz
25 Jan 2018
Class
New Beginners and Improvers Classes
Fen Drayton Village Hall
Ballroom and Latin
Cha Cha Cha (Ballroom), Foxtrot, Jive (Ballroom), Modern Tango, Quickstep, Rumba, Samba, Waltz
29 Jan 2018
Class
Ballroom and Latin
Hemingford Pavilion
Beginners and Improvers
Cha Cha Cha (Ballroom), Foxtrot, Jive (Ballroom), Modern Tango, Quickstep, Rumba, Samba, Waltz
01 Feb 2018
Class
New Beginners and Improvers Classes
Fen Drayton Village Hall
Ballroom and Latin
Cha Cha Cha (Ballroom), Foxtrot, Jive (Ballroom), Modern Tango, Quickstep, Rumba, Samba, Waltz
05 Feb 2018
Class
Ballroom and Latin
Hemingford Pavilion
Beginners and Improvers
Cha Cha Cha (Ballroom), Foxtrot, Jive (Ballroom), Modern Tango, Quickstep, Rumba, Samba, Waltz
08 Feb 2018
Class
New Beginners and Improvers Classes
Fen Drayton Village Hall
Ballroom and Latin
Cha Cha Cha (Ballroom), Foxtrot, Jive (Ballroom), Modern Tango, Quickstep, Rumba, Samba, Waltz
12 Feb 2018
Class
Ballroom and Latin
Hemingford Pavilion
Beginners and Improvers
Cha Cha Cha (Ballroom), Foxtrot, Jive (Ballroom), Modern Tango, Quickstep, Rumba, Samba, Waltz
15 Feb 2018
Class
New Beginners and Improvers Classes
Fen Drayton Village Hall
Ballroom and Latin
Cha Cha Cha (Ballroom), Foxtrot, Jive (Ballroom), Modern Tango, Quickstep, Rumba, Samba, Waltz