Could I Have This Dance
Ballroom and Latin American dance teaching (classes & private lessons) and monthly social dances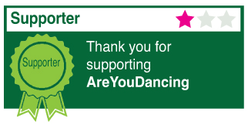 About Could I Have This Dance
We teach Ballroom and Latin American dancing (IDTA qualified) and hold social dances in Cheam/Ewell and Epsom in Surrey.
Whilst we take a relaxed approach to teaching, believing that dancing should be fun, we also provide a good understanding of technique and individual steps. We move students round to dance with different partners as we find this helps build confidence. We both dance with men and ladies throughout the lesson and practise session to help with steps and trouble shoot problems.
Private lessons available
For your wedding first dance or if you are a little rusty after a break and want a refresher to join a class/return to social dancing.
If you have any questions please get in touch. Colin: 07979 802 521 or Jill 07941 457 959.
Current classes
Wednesday evenings
Beginners 7.15 - 8.15pm One hour lesson
Intermediate class 8.30pm – 10.15pm. One hour lesson & 45 minute practice session.
Epsom Methodist Church Ashley Road Epsom Surrey KT18 5AQ
Price £7.00 per person.
Friday evening
Improvers class at Ruxley Church, Ruxley Lane, Ewell, Surrey, KT19 0JG
7.30pm – 9.00pm. One hour lesson and 30 minute practice session. Price £7 per person.
Please contact us about which class may be appropriate for you. Colin: 07979 802 521 or Jill 07941 457 959
Our social dances
We hold a social dances on the fourth Saturday of every month at St Andrews URC, Northey Avenue Cheam Surrey SM2 7HF, 8.00pm to 10.30pm. Price £7 per person
Contact Name: Colin Smith and Jill Strong
Dance Styles: Cha Cha Cha (Ballroom), Foxtrot, Jive (Ballroom), Modern Tango, Quickstep, Rumba, Samba, Viennese Waltz, Waltz
Roles: Event Organiser, Dance Teacher, Regular Dance Classes, Wedding First Dance, Private Lessons
Events: Dance, Class
Main Area: Surrey
Forthcoming Events
Date
Event Name/Venue
Description/Dance Styles
19 Jan
Class
Improvers Ballroom & Latin American
Ruxley Church
Improvers Ballroom & Latin American (all styles).
Cha Cha Cha (Ballroom), Foxtrot, Jive (Ballroom), Modern Tango, Quickstep, Rumba, Samba, Viennese Waltz, Waltz
24 Jan
Class
Beginners Ballroom & Latin American
Epsom Methodist Church
Ballroom and Latin American beginners class
Cha Cha Cha (Ballroom), Foxtrot, Jive (Ballroom), Modern Tango, Quickstep, Rumba, Samba, Waltz
Class
Intermediate Ballroom/Latin dancing
Epsom Methodist Church
Intermediate level-please contact via couldihavethisdance@aol.co.uk
Cha Cha Cha (Ballroom), Foxtrot, Jive (Ballroom), Modern Tango, Quickstep, Rumba, Samba, Viennese Waltz, Waltz
26 Jan
Class
Improvers Ballroom & Latin American
Ruxley Church
Improvers Ballroom & Latin American (all styles).
Cha Cha Cha (Ballroom), Foxtrot, Jive (Ballroom), Modern Tango, Quickstep, Rumba, Samba, Viennese Waltz, Waltz
27 Jan
Dance
Monthly Social Dances twice a month
St Andrews UR Church
Ballroom and Latin American Social Dance with the occasional Modern Jive
Cha Cha Cha (Ballroom), Foxtrot, Jive (Ballroom), Modern Tango, Paso Doble, Quickstep, Rumba, Samba, Viennese Waltz, Waltz
31 Jan
Class
Beginners Ballroom & Latin American
Epsom Methodist Church
Ballroom and Latin American beginners class
Cha Cha Cha (Ballroom), Foxtrot, Jive (Ballroom), Modern Tango, Quickstep, Rumba, Samba, Waltz
Class
Intermediate Ballroom/Latin dancing
Epsom Methodist Church
Intermediate level-please contact via couldihavethisdance@aol.co.uk
Cha Cha Cha (Ballroom), Foxtrot, Jive (Ballroom), Modern Tango, Quickstep, Rumba, Samba, Viennese Waltz, Waltz
02 Feb
Class
Improvers Ballroom & Latin American
Ruxley Church
Improvers Ballroom & Latin American (all styles).
Cha Cha Cha (Ballroom), Foxtrot, Jive (Ballroom), Modern Tango, Quickstep, Rumba, Samba, Viennese Waltz, Waltz
03 Feb
Dance
Monthly Social Dances twice a month
St Andrews UR Church
Ballroom and Latin American Social Dance with the occasional Modern Jive
Cha Cha Cha (Ballroom), Foxtrot, Jive (Ballroom), Modern Tango, Paso Doble, Quickstep, Rumba, Samba, Viennese Waltz, Waltz
07 Feb
Class
Beginners Ballroom & Latin American
Epsom Methodist Church
Ballroom and Latin American beginners class
Cha Cha Cha (Ballroom), Foxtrot, Jive (Ballroom), Modern Tango, Quickstep, Rumba, Samba, Waltz