Could I Have This Dance
Ballroom and Latin American classes/private lessons. Monthly social dances St Joseph's Church Epsom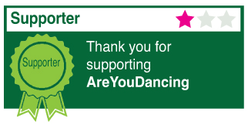 About Could I Have This Dance
Good news! Dancers - we're back - so you can be too!
September 2020 Wednesday refresher sessions & a Saturday social dance practice session
Wednesday refresher lesson
From Wednesday 16 September at Epsom Methodist Church - weekly sessions,
8 – 9.30pm, open to all levels, comprising a 45 minute refresher/kick start lesson (ballroom and Latin) plus 45 minute practise session.
Students will need to dance with the same partner & there will be no rotation between students/teachers. We will limit numbers of "partner couples" per session.
Everyone must wear face covering while in the church building (unless exempt). Although a bit strange but doable.
We appreciate the restrictions are disappointing for single dancers and once we are allowed, we will get back to normal lessons where everyone can join in.
Saturday social dance practise session
Saturday 12th September 2020 at Epsom Methodist Church from 8 – 10pm. To adhere to social distancing rules, we will only take 12 "partner couples".
General
At both events you will need to bring your own drinks (non-alcoholic) as the kitchen is unavailable.
Cost per person for either event is £7.50 (£15 per "partner couple") payable by BACS. Allocation will be on a pre bookable first come first served basis. Contact us for more info/to book/obtain bank details – payment required in advance or your space will be reallocated – we will keep a waiting list for this purpose.
Colin: 07979 802 521
Jill: 07941457959
Contact Name: Colin Smith and Jill Strong
Dance Styles: Cha Cha Cha (Ballroom), Foxtrot, Jive (Ballroom), Modern Tango, Quickstep, Rumba, Samba, Viennese Waltz, Waltz
Roles: Event Organiser, Dance Teacher, Regular Dance Classes, Wedding First Dance, Private Lessons
Events: Dance
Main Area: Surrey
Forthcoming Events
Date
Event Name/Venue
Description/Dance Styles
Ballroom/Latin social Dance
Epsom Methodist Church
Dance
Saturday Social dance for all levels of Ballroom & Latin American dancers. FULLY BOOKED
Cha Cha Cha (Ballroom), Foxtrot, Jive (Ballroom), Modern Tango, Quickstep, Rumba, Samba, Viennese Waltz, Waltz