Steps In Time
A Community project with all proceeds donated to Blue Smile Cambridge & St Johns Hospice Bedford.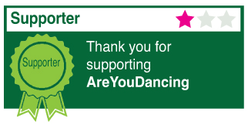 About Steps In Time
Coming to St Ives Corn Exchange monthly, "Steps In Time" proudly presents "Friday Night Is Dance Night" playing non-stop Modern Ballroom, Latin American and limited Sequence CD music by our resident "Cut Outs" band featuring a mixture of traditional and modern music. A high quality Bose sound system ensures that the beat is heard from the front to the back of the dance hall for your dancing pleasure.
In an effort to create a great dance experience tickets are strictly limited to 50 no . You are strongly advised to contact the organiser by email to book tickets. Alternatively contact the Corn Exchange (09:00 to 13:00hrs Mon to Fri) on 01480 496454 and leave details. Reserved tickets should be paid for within 48 hours or may be released for resale.
The Corn Exchange is a modern air conditioned building, with its large sprung floor, is situated in the lovely market town of St Ives and is easily accessible from all directions. The town centre has on street parking and 3 car parks within a short walking distance.
In association with Lesley's Social Dancing "Friday Night Is Dance Night" is a community project where all profits are donated equally to Sue Ryder and Blue Smile charities. Other than the cost of hiring the hall no other deductions will be made from the box office takings. The dances are currently booked until the end of 2018 and with only a few exceptions will be run on the second Friday of each month and only with your support will they continue.
Contact Name: Mr Philip R Tyler
Dance Styles: Argentine Tango, Cha Cha Cha (Ballroom), Foxtrot, Jive (Ballroom), Modern Tango, Paso Doble, Quickstep, Rumba, Salsa, Samba, Popular Sequence, Viennese Waltz, Waltz
Roles: Event Organiser, DJ
Events: Dance
Main Area: Cambridgeshire
Forthcoming Events
Date
Event Name/Venue
Description/Dance Styles
Friday Night Is Dance Night
The Corn Exchange
Dance
Friday Night Is Dance Night
Argentine Tango, Cha Cha Cha (Ballroom), Foxtrot, Jive (Ballroom), Modern Tango, Paso Doble, Quickstep, Rumba, Salsa, Samba, Popular Sequence, Viennese Waltz, Waltz
Friday Night Is Dance Night
The Corn Exchange
Dance
Friday Night Is Dance Night
Argentine Tango, Cha Cha Cha (Ballroom), Foxtrot, Jive (Ballroom), Modern Tango, Paso Doble, Quickstep, Rumba, Salsa, Samba, Popular Sequence, Viennese Waltz, Waltz
Friday Night Is Dance Night
The Corn Exchange
Dance
Friday Night Is Dance Night
Argentine Tango, Cha Cha Cha (Ballroom), Foxtrot, Jive (Ballroom), Modern Tango, Paso Doble, Quickstep, Rumba, Salsa, Samba, Popular Sequence, Viennese Waltz, Waltz
Friday Night Is Dance Night
The Corn Exchange
Dance
Friday Night Is Dance Night
Argentine Tango, Cha Cha Cha (Ballroom), Foxtrot, Jive (Ballroom), Modern Tango, Paso Doble, Quickstep, Rumba, Salsa, Samba, Popular Sequence, Viennese Waltz, Waltz