LeRoc Surrey (The Jive In Dance Co)
LeRoc Surreys started Nov 1995. Weekly classes Tuesday@ Dorking Halls, excellent dances at weekends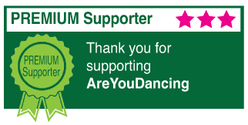 About LeRoc Surrey (The Jive In Dance Co)
Weekly classes since 1998 in Dorking on
Tuesdays Dorking Halls, Dorking
We have taught modern Jive since 1st November 1995 and in Dorking from October 1998. thats In Dorking alone membership now exceeds 6,700 dancers
Dance nights @ the weekend, most weekends, Fridays or Saturdays.
Our freestyle dances do not have classes before they start as our dancers prefer to start dancing, not wait around.
Our dance numbers average 200 dancers per night at Tylney Hall Saturday night dances.
We have amazing Ball nights at Dorking Halls. next one Saturday 28th October Black & White Ball.
We have Classix dance nights on Fridays @ Tylney Hall.Check web site.
We have Ashtead Hall on many Fridays & Saturdays nights throughout the year, check web site site for more information for each one.
We occasional dances at the "Village" Betchworth Hall, check web site for dates
And our December dance dates are really special, so for Christmas & New Year events, you know where to come!
check web site www.leroc.biz
Please note no classes on these nights at Dorking Halls
12th September (this one is held at Ashtead Hall)*
19th September
21st November
*Please note Tuesday 12th September class night will now be held at Ashtead Hall, Woodfield Lane, Ashtead KT21 2BE.
Contact Name: Colin Shaul
Dance Styles: Argentine Tango, Blues, Leroc, Modern Jive, Salsa, West Coast Swing, Smooth Modern Jive
Roles: Event Organiser, Dance Teacher, Regular Dance Classes, Private Lessons, DJ, Dance Performance, Dance Clothes, Event Merchandise
Events: Class, Dance, Holiday
Main Area: Surrey
Website: http://www.leroc.biz/
Forthcoming Events
Date
Event Name/Venue
Description/Dance Styles
23 Dec
Dance
LeRoc Eve of Christmas Eve SnowBall
Tylney Hall, Leatherhead Leisure Centre
The amazing Annual Ball, sold our last 12 years- don't miss out!!
Leroc, Modern Jive, Smooth Modern Jive
27 Dec
Dance
LeRoc Surrey Hollywood Big Dance
Tylney Hall, Leatherhead Leisure Centre
This "in-between" dance is an exciting night out and we shall decorate the venue Hollywood
Leroc, Modern Jive, Smooth Modern Jive
30 Dec
Dance
LeRoc Eve of New Year Eve Dance
Tylney Hall, Leatherhead Leisure Centre
The Eve of New Year Eve Dance
Leroc, Modern Jive, Smooth Modern Jive
31 Dec
Dance
New Years Eve Spectacular Ball
Tylney Hall (the Ballroom)
New Years Eve Spectacular Ball
Leroc, Modern Jive, Smooth Modern Jive
02 Jan 2018
Class
New Year Xtra Class & Freestyle
Ashtead Peace Memorial Hall
One Night only 2nd January 2018 Ashtead Hall (Dorking Halls reopens 23rd Jan 18) Special
Leroc, Modern Jive, Smooth Modern Jive
06 Jan 2018
Dance
LeRoc Surrey Big New YearDance
Tylney Hall, Leatherhead Leisure Centre
First class dance venue
Leroc, Modern Jive
20 Jan 2018
Dance
LeRoc Surrey MJ Big Saturday dance
Ashtead Peace Memorial Hall
LeRoc dancing in two dance halls
Leroc, Modern Jive, Smooth Modern Jive
23 Jan 2018
Class
LeRoc Surrey Modern & Smooth Jive
Dorking Halls
LeRoc Modern Jive & Smooth Classes & Freestyle Grand Hall, Dorking Halls
Leroc, Modern Jive
26 Jan 2018
Dance
LeRoc Surrey "Xlassics" Modern Jive
Tylney Hall
LeRoc Freestyle
Leroc, Modern Jive, Smooth Modern Jive
30 Jan 2018
Class
LeRoc Surrey Modern & Smooth Jive
Dorking Halls
LeRoc Modern Jive & Smooth Classes & Freestyle Grand Hall, Dorking Halls
Leroc, Modern Jive