Vibez Dance Studios
Ballroom and Latin American dance school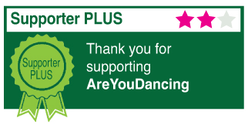 About Vibez Dance Studios
Vibez Dance Studio is the new dance studio in Reading with all dance forms of dance & fitness under one roof. The idea behind the studio is to create a centre of dance, where people can come a enjoy dance, at all levels and ages.
Vibez Dance Studios (est 2015) offers adult dance & adult dance-fitness classes, along with kids dance programs for ages 3 years to teens.

The studio has on-going investment, to ensure that it stays a state of the art and a beautiful studio for potential customers in the future.
We are happy to help with any aspirations and dreams that you may have and to strive to ensure success in your dancing.
We offer a wide range and variety of dance styles including : ballroom and latin, street dance, lyrical, freestyle, pole dancing, zumba, argentine tango, sequence, tap, ballet, acro so theres defiantly a type of dance to suit everyone!
Contact Name: Morgan Hemphill & Richard Still
Dance Styles: American Smooth, Argentine Tango, Cha Cha Cha (Ballroom), Cha Cha (Club), Foxtrot, Jive (Ballroom), Modern Tango, Old Time Dancing, Paso Doble, Quickstep, Rumba, Samba, Popular Sequence, Tap, Viennese Waltz, Waltz, Zumba, General Dance Fitness, Modern Sequence
Roles: Dance Teacher, Regular Dance Classes, Wedding First Dance, Private Lessons, Child Classes, Dance Performance, Dance Shoes, Dance Clothes, Therapy/Massage, Venue for Hire
Main Area: Reading
Website: http://www.vibezdance.co.uk/