Retford Ballroom Dance Club
The Club meets in Retford Town Hall Ballroom usually on the first Saturday of the month from 7.30pm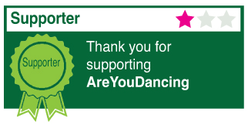 About Retford Ballroom Dance Club
The club provides an excellent opportunity for ballroom dancing to live music in the beautiful Town Hall ballroom. So why not come to a dance and see if it is what you are looking for? We will make you very welcome.
Ballroom and Latin American Dancing (plus four old time/sequence dances) to music played by our resident organist.
Dancing usually takes place on the first Saturday of the month, from 7.30 pm to 10.30 pm at £15 per couple.
The up coming dates in 2016 are
2nd April, 7th May, 4th June, July – no dance, 6th August, 3rd September, 1st October, 5th November,
10th December - note this is the second Saturday.

Tea/coffee and biscuits will be on sale at the interval. There is no bar so please feel free to bring your own drinks (including alcoholic drinks if you wish)
We look forward to welcoming you to our dances whatever your standard.
Parking is to the rear of the Town Hall - drive past Asda (DN22 6EN) and Kings Park which are on your left until the parking opportunities reveal themselves. Enter via Market Place and proceed up the stairs to the first floor ballroom.
If you wish to be on our email list then say hello to djmow@siewndavid.plus.com
For inquiries please ring Roger on 01709 543 108
Contact Name: Allan Kitt
Dance Styles: Cha Cha Cha (Ballroom), Foxtrot, Jive (Ballroom), Modern Tango, Quickstep, Rumba, Samba, Waltz
Roles: Event Organiser
Events: Dance
Main Area: Nottinghamshire
Forthcoming Events
Date
Event Name/Venue
Description/Dance Styles
Retford Ballroom Dance Club
Retford Town Hall
Dance
The club provides an excellent opportunity for ballroom dancing to live music
Cha Cha Cha (Ballroom), Foxtrot, Jive (Ballroom), Quickstep, Rumba, Samba, Waltz
Retford Ballroom Dance Club
Retford Town Hall
Dance
The club provides an excellent opportunity for ballroom dancing to live music
Cha Cha Cha (Ballroom), Foxtrot, Jive (Ballroom), Quickstep, Rumba, Samba, Waltz
Retford Ballroom Dance Club
Retford Town Hall
Dance
The club provides an excellent opportunity for ballroom dancing to live music
Cha Cha Cha (Ballroom), Foxtrot, Jive (Ballroom), Quickstep, Rumba, Samba, Waltz
Retford Ballroom Dance Club
Retford Town Hall
Dance
The club provides an excellent opportunity for ballroom dancing to live music
Cha Cha Cha (Ballroom), Foxtrot, Jive (Ballroom), Quickstep, Rumba, Samba, Waltz
Retford Ballroom Dance Club
Retford Town Hall
Dance
The club provides an excellent opportunity for ballroom dancing to live music
Cha Cha Cha (Ballroom), Foxtrot, Jive (Ballroom), Quickstep, Rumba, Samba, Waltz
Retford Ballroom Dance Club
Retford Town Hall
Dance
The club provides an excellent opportunity for ballroom dancing to live music
Cha Cha Cha (Ballroom), Foxtrot, Jive (Ballroom), Quickstep, Rumba, Samba, Waltz
Retford Ballroom Dance Club
Retford Town Hall
Dance
The club provides an excellent opportunity for ballroom dancing to live music
Cha Cha Cha (Ballroom), Foxtrot, Jive (Ballroom), Quickstep, Rumba, Samba, Waltz
Retford Ballroom Dance Club
Retford Town Hall
Dance
The club provides an excellent opportunity for ballroom dancing to live music
Cha Cha Cha (Ballroom), Foxtrot, Jive (Ballroom), Quickstep, Rumba, Samba, Waltz
Retford Ballroom Dance Club
Retford Town Hall
Dance
The club provides an excellent opportunity for ballroom dancing to live music
Cha Cha Cha (Ballroom), Foxtrot, Jive (Ballroom), Quickstep, Rumba, Samba, Waltz
Retford Ballroom Dance Club
Retford Town Hall
Dance
The club provides an excellent opportunity for ballroom dancing to live music
Cha Cha Cha (Ballroom), Foxtrot, Jive (Ballroom), Quickstep, Rumba, Samba, Waltz