Brighthelm Swing
Monthly evening swing dance in central Brighton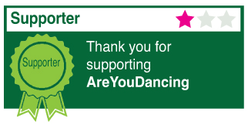 About Brighthelm Swing
A warm welcome awaits you at Brighthelm Swing. Usually held on the third and fifth Saturdays of the month, there's a dance class from 7.00pm, followed by a dance to the tunes of top Brighton swing DJs from 8.00pm-11pm. The venue is between the mainline station, London Road and Moulscoombe stations and there's a well served bus stop nearby. The wooden dance floor has plenty of room to swing out, and you can bring your own refreshments. Water is always available.
Detailed information for each event is posted on Facebook Brighthelm swing page https://m.facebook.com/groups/1631382703778708, on www.BrighthelmSwing.co.uk and on Twitter @BrighthelmSwing
See you on the dance floor!
Contact Name: Annie Corpe
Dance Styles: Balboa, Charleston, Collegiate Shag, Lindy Hop
Roles: Event Organiser
Main Area: Sussex
Website: http://www.brighthelmswing.co.uk