Homefront Lindy Hop
Lindy Hop, Charleston, Strolls, Bal-Swing, East Coast Swing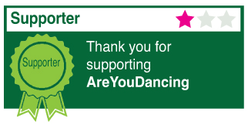 About Homefront Lindy Hop
We run Lindy Hop classes, Mondays, Tuesdays and Wednesday evenings, plus a Bal-Swing class on a Thursday evening, the classes are based on Lindy Hop and we cover 6 and 8 count single/triple step, side and tandem Charleston, Bal-Swing, East Coast Swing and strolls. Free tea and coffee supplied.
Classes run all year round and for further details please contact Mel on 07766881045.
We also hold monthly dances at Hurst Green, Staplecross and Northiam, these are all based on the 1940s and 50s for music and dress code, great fun and very sociable.
Contact Name: Melanie Stemp
Dance Styles: Balboa, Charleston, East Coast Swing, Lindy Hop
Roles: Event Organiser, Dance Teacher, Regular Dance Classes, Wedding First Dance, Private Lessons, DJ, Dance Performance
Main Area: East Sussex
Website: http://www.homefrontlindyhop.co.uk