Peter Ronsons "Dance Night Out"
Dance ballroom/Latin 50/50s with Sequence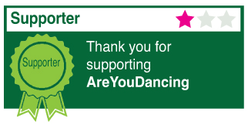 About Peter Ronsons "Dance Night Out"
We advise early booking with Peter by phone 07973 688382 as only reserved places will be available.
Dance on a fabulous large wood dance floor decorated with s
OUR DANCES WILL ALWAYS HAVE : 50 /50 Ballroom /Latin /Sequence.
Requests are always welcome and will be played so long as we have the music needed .
Dances held every month and hosted by Peter Ronson .
Good dance music and sound quality.
OUR Cafe Bar area will serve scrumptious Cakes by Paul , hand made fresh for each dance with tea & coffee some soft drinks available if you want something stronger please feel free to bring your own .
Dances every month with Dance Specials such as Christmas black tie Dinner Dance , Christmas Party Night 16th December & New Years Eve Luxury Buffet Dance Night are just a couple of the events taking place 2017-2018
2018 dates have been organised and run the 3rd Saturday of every months with 12th May being the exception.Which is also a very special celebration dance .
Whether your a beginner or advanced dancer .
Peter and Paul invite you to take to the floor make new friends or meet up with old dance friends in a relaxed ,fun atmosphere.
Need help regarding your dancing please feel free to talk to Peter.
Peter has had over 30 years of teaching dance loves to dance and is always happy to help .Peter regular dance classes are @ Preston grasshoppers .Dancers -Preston
Contact Name: Peter Ronson
Dance Styles: Argentine Tango, Cha Cha Cha (Ballroom), Foxtrot, Jive (Ballroom), Modern Jive, Modern Tango, Paso Doble, Quickstep, Rock n Roll, Rumba, Samba, Popular Sequence, Viennese Waltz, Waltz, Smooth Modern Jive, Modern Sequence
Roles: Dance Teacher, Regular Dance Classes, Wedding First Dance, Private Lessons
Events: Dance
Main Area: Lancashire
Website: http://www.dancers-preston.co.uk
Forthcoming Events
Date
Event Name/Venue
Description/Dance Styles
Peter Ronsons "Dance Night Out"
St Ambrose Hall
Dance
Monthy dance night out 50/50s Ballroom/Latin and Sequence
Cha Cha Cha (Ballroom), Foxtrot, Modern Jive, Modern Tango, Paso Doble, Rock n Roll, Rumba, Samba, Popular Sequence, Viennese Waltz, Waltz, Modern Sequence
Peter Ronsons "Dance Night Out"
St Ambrose Hall
Dance
Monthy dance night out 50/50s Ballroom/Latin and Sequence
Cha Cha Cha (Ballroom), Foxtrot, Modern Jive, Modern Tango, Paso Doble, Rock n Roll, Rumba, Samba, Popular Sequence, Viennese Waltz, Waltz, Modern Sequence
Peter Ronsons "Dance Night Out"
St Ambrose Hall
Dance
Monthy dance night out 50/50s Ballroom/Latin and Sequence
Cha Cha Cha (Ballroom), Foxtrot, Modern Jive, Modern Tango, Paso Doble, Rock n Roll, Rumba, Samba, Popular Sequence, Viennese Waltz, Waltz, Modern Sequence
Peter Ronsons "Dance Night Out"
St Ambrose Hall
Dance
Monthy dance night out 50/50s Ballroom/Latin and Sequence
Cha Cha Cha (Ballroom), Foxtrot, Modern Jive, Modern Tango, Paso Doble, Rock n Roll, Rumba, Samba, Popular Sequence, Viennese Waltz, Waltz, Modern Sequence
Peter Ronsons "Dance Night Out"
St Ambrose Hall
Dance
Monthy dance night out 50/50s Ballroom/Latin and Sequence
Cha Cha Cha (Ballroom), Foxtrot, Modern Jive, Modern Tango, Paso Doble, Rock n Roll, Rumba, Samba, Popular Sequence, Viennese Waltz, Waltz, Modern Sequence
Peter Ronsons "Dance Night Out"
St Ambrose Hall
Dance
Monthy dance night out 50/50s Ballroom/Latin and Sequence
Cha Cha Cha (Ballroom), Foxtrot, Modern Jive, Modern Tango, Paso Doble, Rock n Roll, Rumba, Samba, Popular Sequence, Viennese Waltz, Waltz, Modern Sequence
Peter Ronsons "Dance Night Out"
St Ambrose Hall
Dance
Monthy dance night out 50/50s Ballroom/Latin and Sequence
Cha Cha Cha (Ballroom), Foxtrot, Modern Jive, Modern Tango, Paso Doble, Rock n Roll, Rumba, Samba, Popular Sequence, Viennese Waltz, Waltz, Modern Sequence
Peter Ronsons "Dance Night Out"
St Ambrose Hall
Dance
Monthy dance night out 50/50s Ballroom/Latin and Sequence
Cha Cha Cha (Ballroom), Foxtrot, Modern Jive, Modern Tango, Paso Doble, Rock n Roll, Rumba, Samba, Popular Sequence, Viennese Waltz, Waltz, Modern Sequence