Dance Addiction Studios, Southfields
Ballroom and Latin American for all ages and abilities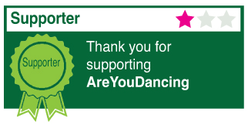 About Dance Addiction Studios, Southfields
Dance Addiction Studios in Southfields, nr Wimbledon is your perfect location for Ballroom and Latin American in southeast London. We cater for all ages and abilities, from beginners and social dancers, to medallists and competitors.
Classes for adults and Children
Private lessons
First wedding dance
Thursday tea dance
Friday night socials
Party nights
IDTA and UKA Medal tests
Friendly medal competitions for adults and children
Lovely dance floor, lounge and conservatory, stage, new kitchen, bar at our party night events.
Contact Name: John Townsend
Dance Styles: American Smooth, Cha Cha Cha (Ballroom), Foxtrot, Jive (Ballroom), Line Dance, Mambo, Modern Tango, Old Time Dancing, Partner (with Disability), Paso Doble, Quickstep, Rock n Roll, Rumba, Salsa, Samba, Popular Sequence, Viennese Waltz, Waltz, West Coast Swing, Modern Sequence
Roles: Event Organiser, Dance Teacher, Regular Dance Classes, Wedding First Dance, Private Lessons, Child Classes
Events: Children's Class, Class, Dance, Special
Main Area: Surrey
Forthcoming Events
Date
Event Name/Venue
Description/Dance Styles
Children's Ballroom & Latin Bronze
St Paul's Community Centre
Children's Class
Children's Ballroom & Latin, over 8, Bronze & Pre-bronze
Cha Cha Cha (Ballroom), Foxtrot, Jive (Ballroom), Modern Tango, Paso Doble, Quickstep, Rumba, Samba, Viennese Waltz, Waltz
Children's Ballroom & Latin Bronze
St Paul's Community Centre
Children's Class
Children's Bronze & Pre-Bronze Ballroom and Latin American Classes, ages 8 and under
Cha Cha Cha (Ballroom), Foxtrot, Jive (Ballroom), Paso Doble, Quickstep, Rumba, Samba, Waltz
Children (&Parents) Irish Dance
St Paul's Community Centre
Children's Class
Irish dancing for Children and Parents
Irish Céilí, Irish Step
Children Ballroom & Latin over 8
St Paul's Community Centre
Children's Class
Beginner Ballroom & Latin for over 8s
Cha Cha Cha (Ballroom), Foxtrot, Jive (Ballroom), Modern Tango, Paso Doble, Quickstep, Rumba, Samba, Waltz
Children (&Parents!) Irish Dance
St Paul's Community Centre
Children's Class
Irish Dancing for Children, parents welcome to join!
Irish Céilí, Irish Step
8 & Under Kids Ballroom & Latin
St Paul's Community Centre
Children's Class
Children's Beginners Ballroom and Latin American Classes
Cha Cha Cha (Ballroom), Foxtrot, Jive (Ballroom), Quickstep, Rumba, Samba, Waltz
Adult Advanced Ballroom and Latin
St Paul's Community Centre
Class
Advanced Ballroom and Latin, 2 dances per class.
Cha Cha Cha (Ballroom), Foxtrot, Jive (Ballroom), Modern Tango, Paso Doble, Quickstep, Rumba, Samba, Popular Sequence, Viennese Waltz, Waltz
Friday night Social
St Paul's Community Centre
Dance
Friday Night Social, lots of fun, tea/Coffe and soft drinks available.
Cha Cha Cha (Ballroom), Foxtrot, Jive (Ballroom), Line Dance, Modern Tango, Old Time Dancing, Quickstep, Rumba, Samba, Popular Sequence, Viennese Waltz, Waltz, Modern Sequence
Children's Ballroom & Latin Bronze
St Paul's Community Centre
Children's Class
Children's Ballroom & Latin, over 8, Bronze & Pre-bronze
Cha Cha Cha (Ballroom), Foxtrot, Jive (Ballroom), Modern Tango, Paso Doble, Quickstep, Rumba, Samba, Viennese Waltz, Waltz
Children's Ballroom & Latin Bronze
St Paul's Community Centre
Children's Class
Children's Bronze & Pre-Bronze Ballroom and Latin American Classes, ages 8 and under
Cha Cha Cha (Ballroom), Foxtrot, Jive (Ballroom), Paso Doble, Quickstep, Rumba, Samba, Waltz