Shall We Dance Scotland
Teaching Ballroom and Latin dancing to a social skill level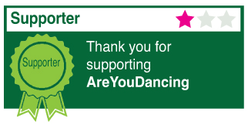 About Shall We Dance Scotland
Ballroom and Latin dancing is a social skill enjoyed by many. Learning the basics and learning them well is the key to having great fun and meeting a wide range of fascinating people.
We teach a wide range of dances from Waltz and ChaChaCha to sequence dances and a little line dancing now and then.
We regularly run Dance Evenings and Tea Dances and raise money for local charities in the process.
No excuses, no one truly has 2 left feet, everyone has a sense of rhythm. Learning is the key to success and having fun along the way makes it all the more enjoyable.
Start any time contact us to let us know your coming, no special clothes no special shoes required, just dress comfortably and bring a sense of humour.
Contact Name: sandra bamford
Dance Styles: Cha Cha Cha (Ballroom), Foxtrot, Jive (Ballroom), Modern Tango, Quickstep, Rumba, Samba, Popular Sequence, Viennese Waltz, Waltz, Modern Sequence
Roles: Event Organiser, Dance Teacher, Regular Dance Classes
Main Area: Renfrewshire